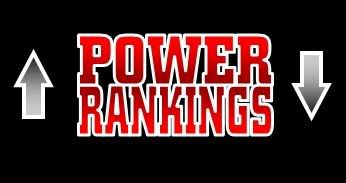 1. Detroit Red Wings (48-15-9)
Last Week: #1
Last 10: 7-2-1
Though Detroit's recent losses have been glaring, they've gone 16-4-2 since the beginning of February. It looks like they'll eventually pull away from San Jose for best in the West.

2. San Jose Sharks (48-14-10)
Last Week: #3
Last 10: 6-3-1
San Jose went 3-0 this week and overtook Detroit in the West for the time being. Although ugly, these wins will help their pursuit of the Presidents' Trophy.

3. New Jersey Devils (47-22-3)
Last Week: #2
Last 10: 7-3
The Devils had 2 nice home wins this week, including Brodeur's milestone night… but also has 2 disappointing losses on the road. 3 big games this week (PHI, CHI, CAR).

4. Vancouver Canucks (38-24-9)
Last Week: #4
Last 10: 7-2-1
The Canucks are suddenly developing into the dark horse to come out of the West, and could ultimately jump over Calgary for the Northwest title.

5. Boston Bruins (46-17-10)
Last Week: #5
Last 10: 4-5-1
Boston may have won their biggest game of the year Sunday vs. New Jersey, but they'll have a 5-day layoff 'til there next game. They'll have to watch the Devils & Capitals gain ground on 'em.

6. Pittsburgh Penguins (39-27-8)
Last Week: #6
Last 10: 7-1-2
Memo to the Pens: please don't wear the baby blues anymore! It's not Pittsburgh… black & gold is Pittsburgh. As long as they stay away from them in the playoffs, they'll be fine.

7. Philadelphia Flyers (39-22-10)
Last Week: #8
Last 10: 6-4
The Flyers picked up a big win in Pittsburgh yesterday, as they now have a firm grip with the 4th seed in the East, and they have 3 games in hand on both the Pens & 'Canes.

8. Columbus Blue Jackets (38-28-6)
Last Week: #9
Last 10: 7-3
Steve Mason & company downright stole 2 points from Florida on Saturday with 3 goals in the last 3 minutes. The Jackets are closing in on Chicago & Vancouver.

9. Washington Capitals (45-23-6)
Last Week: #7
Last 10: 5-4-1
The Caps went 2-2 on the road this week, but it was overshadowed by Ovechkin's controversial goal celebration. Also, Theodore's inconsistencies continue…

10. Carolina Hurricanes (39-28-7)
Last Week: #12
Last 10: 7-1-2
The 'Canes may have just 8 games remaining, but they're certainly making their case for a playoff spot. Carolina had 3 impressive wins this week, and currently sits in 6th.

11. Calgary Flames (41-24-6)
Last Week: #10
Last 10: 4-6
Calgary's team defense has been abysmal this month, giving up over 4 goals per game. Kipper & the boys have to get things back on track before April 15th.

12. Chicago Blackhawks (38-22-11)
Last Week: #11
Last 10: 3-5-2
Yesterday's win over the Kings wasn't overly impressive, and I'm still worried about this team heading into the playoffs. Either Huet or Khabibulin needs to step up in a big way.

13. New York Rangers (38-27-8)
Last Week: #16
Last 10: 7-3
The Blueshirts put together another nice week under Tortorella… Saturday's game in Pittsburgh shall be a dandy!

14. Edmonton Oilers (35-28-9)
Last Week: #20
Last 10: 5-1-4
I was really impressed with their back-to-back wins in Colorado & Chicago. And even though they lost in Minny yesterday, their playoff chances are looking better nowadays.

15. Nashville Predators (35-30-7)
Last Week: #14
Last 10: 5-2-3
The Preds had a successful road trip, picking up points in all 4 games. If Arnott can come back promptly, Trotz & company could be in the playoffs for the 5th straight year.

16. Anaheim Ducks (35-31-6)
Last Week: #21
Last 10: 5-4-1
Anaheim had a great week by going 3-0. They're currently in 9th, and have a big game in Nashville on Tuesday.

17. Montreal Canadiens (36-27-9)
Last Week: #13
Last 10: 3-5-2
Bob Gainey has got to be in hot water after Saturday's bad loss to Toronto. The Habs, in their 100th season, are in danger of missing the playoffs.

18. Florida Panthers (35-27-10)
Last Week: #17
Last 10: 4-4-2
Not trading Jay Bouwmeester seemed like it would help Florida's playoff chances. But 2 key injuries have resulted in a bad 2-4-2 stretch since the trade deadline.

19. St. Louis Blues (33-30-9)
Last Week: #19
Last 10: 5-4-1
The Blues will not go away in the West, and have 3 big home games this week. A 3-0 week is crucial before playing 6 of 7 on the road to the end the season.

20. Ottawa Senators (32-30-10)
Last Week: #25
Last 10: 9-1
It's a shame that the hottest team in the league will likely miss the postseason. But this is a great stepping stone to next season for Clouston & company.

21. Buffalo Sabres (34-30-8)
Last Week: #15
Last 10: 3-6-1
Buffalo's only hope of making the postseason seems to be a collapse by both the Panthers and the Habs. They're 3-7-2 since Ryan Miller got injured.

22. Minnesota Wild (34-30-8)
Last Week: #22
Last 10: 3-4-3
Yesterday's win over Edmonton was huge as they close within one point of Nashville for 8th. This week is critical to their playoff hopes with 4 road games on tap.

23. Dallas Stars (33-31-8)
Last Week: #18
Last 10: 4-5-1
Are the Stars worn out from all the injuries and hard work from getting back in the race?? In my estimation, Turco needs to lead the charge and go 8-2 in these last 10 games to make it.

24. Atlanta Thrashers (30-37-6)
Last Week: #23
Last 10: 7-3
Atlanta obviously won't make the playoffs, but this late season success could help the team for next season.

25. Toronto Maple Leafs (30-30-13)
Last Week: #24
Last 10: 5-4-1
Could Martin Gerber be teamed with Toskala next year between the pipes?? He's been a pleasant surprise for the Leafs (4-3-1).

26. Los Angeles Kings (30-32-10)
Last Week: #26
Last 10: 4-5-1
LA's comeback win in Boston seemed big at the time, but 2 straight losses and a lot more road games minimize their playoff chances.

27. New York Islanders (24-40-8)
Last Week: #27
Last 10: 5-4-1
The Isles will be looking to play the role of spoilers as 9 of their last 10 games are played against playoff-contending teams.

28. Phoenix Coyotes (30-36-7)
Last Week: #30Last 10: 3-5-2
The Coyotes beat the Sharks & Canucks at home this week, and temporarily climb out of the cellar.

29. Tampa Bay Lightning (23-33-16)
Last Week: #28
Last 10: 3-3-4
Three home losses this week pushed the Bolts' record at St. Pete Times Forum to 11-15-11.

30. Colorado Avalanche (31-40-2)
Last Week: #29
Last 10: 3-6-1
The Avs fall back into the cellar after their awful 8-1 loss on home-ice to the Oilers this week.