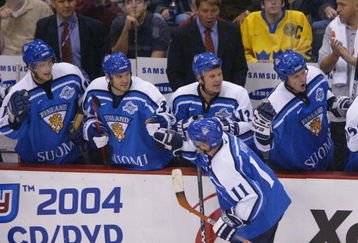 On Thursday, we looked at the potential roster for Team Russia. Today we continue our early look-ahead to the Olympics with Finland!

Forwards (12)
Mikko Koivu
Olli Jokinen
Teemu Selanne
Saku Koivu
Tuomo Ruutu
Niklas Hagman
Valterri Filppula
Niko Kapanen
Jussi Jokinen
Antti Miettinen
Janne Pesonen
Jarkko Ruutu

Defensemen (6)
Kimmo Timonen
Joni Pitkanen
Sami Salo
Toni Lydman
Teemu Aalto
Lasse Kukkonen

Goalies (3)
Niklas Backstrom
Miikka Kiprusoff
Pekka Rinne

Omissions from camp:
Korpikoski, Pihlstrom, Nokelainen, Osala, Kontiola, Hahl, Pyorala, Lehtinen, Bergenheim, Leino, Immonen, S. Kapanen, Vaananen, Salmela, Lepisto, M. Lehtonen, Nummelin, Jokela, Malmivaara, Niskala, Valivaara, Jaakola, Seikola, K. Lehtonen, Niittymaki, Rinne, Toskala

Olympics Outlook:
Like the Russians, Finland should be a dangerous team as well as they'll have instant chemistry. The Finns captured Silver in the 2006 Winter Games in Italy, losing in the Gold Medal Game to Sweden. Redemption should be on their minds, and they're probably expecting to medal this February.