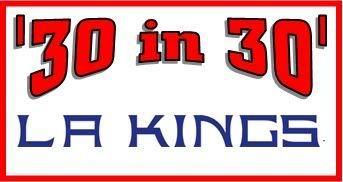 2008/09 Recap-
Record: 34-37-11, 79 pts.
Playoffs: None

Key Additions: Ryan Smyth, Rob Scuderi
Key Subtractions: Kyle Quincey, Denis Gauthier, Kyle Calder, Tom Preissing

X-Factor: Dustin Brown
The captain does a little bit of everything for the Kings.
Breakout player: Justin Williams
Ankle injury slowed him last year; could thrive with Kopitar.
Prospect to watch: Jonathan Bernier
If Quick and/or Ersberg fall apart, Bernier will be called upon.
On the hot seat: Jack Johnson
It's time for Johnson to take off as he'll be counted upon to contribute in most situations.

Fantasy Corner-
Buy: Anze Kopitar
Sell: Jon Quick
Sleeper: Drew Doughty

Bold Prediction: Wingers Dustin Brown, Alexander Frolov, and Justin Williams will all score 30+ goals.

Team Overview: Boston and Chicago burst onto the scene last season, and revived hockey in each of their cities. Los Angeles is next. They have an abundance of talent and youth, and added Ryan Smyth and Rob Scuderi this summer to balance it out. Their biggest flaw is in net, as Quick and Ersberg will battle for the #1 job in the pre-season. If they can't get consistent goaltending, a playoff appearance may have to wait another year. Although I'd like to think they can snap that drought, the West may be too deep for the Kings to sneak in.

Current 09/10 Prediction-
4th in Pacific Division