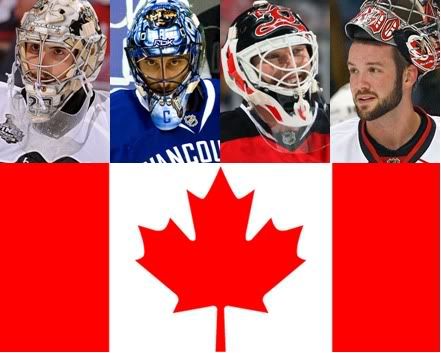 Going into this season, Team Canada's goalie situation for the 2010 Olympics was a simple thought process: who is going to backup Roberto Luongo?? Things have definitely changed through the first month of play. We're just two months away from the roster being set, and the race for the starting job in Vancouver in February is on! IMO Marc-Andre Fleury is leading the pack, followed by Luongo, Martin Brodeur, and Cam Ward (in that order). Two others to keep an eye on would be Steve Mason and Carey Price.

How can you not say Fleury is the clear-cut starter in net at this time?? His numbers are mind-boggling (9-1, 2.07) and is fresh off his Stanley Cup victory. His 2004 collapse at the World Juniors is behind him, looking like the best goalie in the NHL at this moment. Injuries have been a thorn in his side in the past. But if he can stay healthy and keep playing the way he is, he should get the nod between the pipes in Vancouver.

Brodeur and Ward are both viable options to be a backup for Team Canada. I don't know if GM Steve Yzerman wants to hand the keys to the old guard in Brodeur, but he'd be a great second option. Ward, like the whole Hurricanes team, has struggled coming out of the gates. Though he's a great playoff performer, he'll have to turn things around to have a chance at making the team.

And then there's 'Bobby Lou'. An inconsistent start coupled with a broken rib may be enough to relegate him to backup this winter. You know he wants to start in Vancouver, but can Yzerman put all the weight on Luongo's shoulders?? He's proven the last few years that his shoulders aren't big enough in crucial moments (i.e. 2nd round vs. Chicago).

Luongo would be the popular choice since the Olympics are taking place in the city where's he loved. But I don't know if you can pin the hopes of a country on him. Fleury has been clutch in the playoffs, and is proving that he's an elite goaltender this season. It'd be a helluva story to see Luongo possibly win gold in Vancouver as the starter. But if Yzerman uses his brain, Fleury may be the best candidate for the job.