Last night the Blackhawks became the last team to unveil their third jerseys this season (besides New Jersey in March). These became the 'cool' thing to do for NHL teams in the mid-90's, and it's stuck ever since. Today I rank my top five thirds of all-time!

1. Ottawa Senators – 00/01
I've always loved these thirds, and was disappointed when they took 'em away. They've since gone with a newer look with the new jerseys, and I'm not a big fan of those black ones.



2. Minnesota Wild – 09/10
Minny's new third is awesome. It's different from the rest in the fact that it's green. Every third around the NHL today seems to be some shade of black or blue. Good job, Wild organization!


3. New York Rangers – 96/97
These jerseys fit New York perfectly, obviously, with the Statue of Liberty logo. The whole jersey just blends well, and the Rangers became the second Original Six to adopt an alternate.


4. Carolina Hurricanes – 08/09
The all-black look for the 'Canes is sweet. The alternate logo on the chest is great, and I liked how they kept the hurricane flags at the bottom. If I were a Carolina fan, I'd definitely one of these…


5. Vancouver Canucks – 08/09
I thought it was a great idea by the Canucks to tweak the old rink logo for a new third jersey last year. It's pretty sharp, and the shoulder patches are unique. Bravo, Vancouver!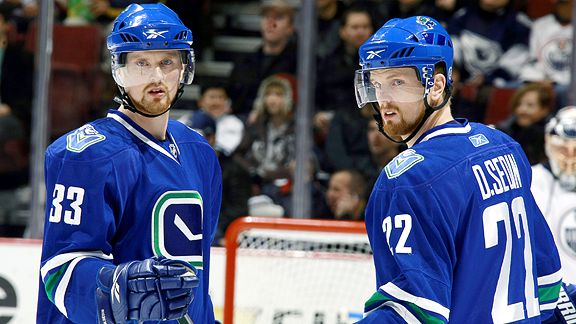 Honorable Mention:
Boston Bruins – 95/96
Toronto Maple Leafs – 98/99
Nashville Predators – 01/02
Buffalo Sabres – 08/09
Chicago Blackhawks – 09/10

Three for the trash can:
Vancouver Canucks – 95/96
Dallas Stars – 03/04
Florida Panthers – 09/10

What are your favorite third jerseys of all-time??