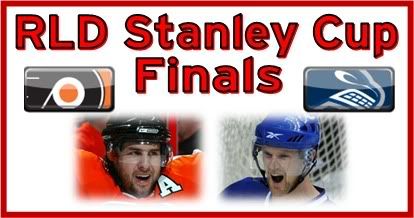 Philadelphia Flyers vs. Vancouver Canucks


If this Cup final matchup were to actually occur, it'd be just as good as the Pens and Wings from a year ago IMO. You'd have the 'Orange Crush' in Philly, and 'Towel Power' in Vancouver. These two hockey markets are extremely hungry for a Stanley Cup. The Flyers haven't won it since the mid-70's, and the Canucks haven't won one at all.

This was a very tough decision… I went through many different scenarios/matchups, and still couldn't pick between the Flyers & Canucks once I decided on them. But I opted to go with the Canucks, and here's why. If they ever got this far, you know Roberto Luongo would be in such a zone that it'd almost be impossible to beat him. He's determined this year to win when it counts, and prove last spring's series against Chicago is in his rear-view mirror. I also love Vancouver's depth. Their mix of forwards is really good as they have 3 lines that score regularly. The blue-line goes 8 players deep, and all bring something different to the table. We all know you need depth to win in this league, and GM Mike Gillis did a good job getting that this summer.

Even though I didn't pick them, I'll make a case for the Flyers. If Claude Giroux steps up this year, Philly may have the best group of forwards in the East (including Washington and Pittsburgh). Richards, Carter, Gagne, and Briere can all score upwards of 30-40 goals if healthy. Hartnell brings some sandpaper to the top six, but can also score 20-30. Then you have Giroux, whose sky is the limit if you ask me. Their defense corps got a boost this summer with the addition of Pronger. Defense is suddenly a strength in Philly. I just can't pick a team to win all the marbles with Ray Emery as their net-minder…

So there you have it… I have picked the Canucks to win the Stanley Cup, with Luongo hoisting the Conn Smythe. He'd also become the first goalie captain to raise the Cup. I'll say the Cup returns to Canada, and there's a first time for everything. The Canucks get their first Cup, and they'll beat the Flyers in six grueling games.