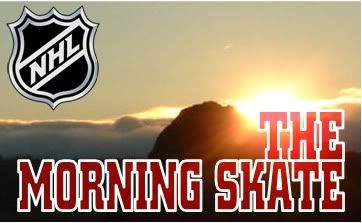 The Morning After:
Last night's scores:
Maple Leafs 4, Flyers 0
Senators 2, Rangers 0
Sabres 2, Thrashers 1 (OT)
Canadiens 5, Stars 3
Panthers 3, Lightning 2
Red Wings 3, Hurricanes 1
Blues 1, Wild 0
Blackhawks 3, Blue Jackets 0
Coyotes 4, Devils 3
Penguins 3, Oilers 2
Kings 4, Ducks 0
Bruins 2, Sharks 1 (SO)
Predictions record: 8-3-1

My 3 stars from last night:
1. Mike Brodeur, OTT (32 Saves, Shutout)
The Rangers were shutout by another Brodeur, as Mike won just his 2nd career game.
2. Tim Thomas, BOS (41 Saves, 1 GA)
Thomas was terrific in the B's shootout win, as he made a lot of big saves.
3. Jordan Staal, PIT (3 Assists)
Staal engineered the Pens' comeback with a trio of primary assists.
Honorable Mention: V. Toskala, J. Quick, C. Huet, C. Mason, B. Gionta, T. Bozak, D. Miller
---

Tonight's Slate:
Maple Leafs @ Capitals, 7:00 ET
Predators @ Flames, 9:00

Game of the Night:
Nashville Predators @ Calgary Flames
9:00 ET… TV: Local Networks

Records:
Overall: Predators (28-16-3) … Flames (26-15-6)
Last Ten: Predators (6-4-0) … Flames (6-3-1)
Away/Home: Predators (14-7-2) … Flames (12-9-3)
Season Series: 2-1 Flames

Players to watch:
NSH- Ryan Jones
'Jonesy' has 4 points in the first 2 games of this western swing.
CGY- Jarome Iginla
'Iggy' has dominated the Preds in his career, and needs to spark the Flames' offense.

Projected Goaltenders:
NSH- Dan Ellis (09/10 stats: 10-8-1, 2.71 GAA)
CGY- Miikka Kiprusoff (09/10 stats: 23-12-6, 2.18 GAA)

Injury Report:
NSH- Jason Arnott (upper-body, questionable), Jerred Smithson (hand, out), Jordin Tootoo (foot, out)
CGY- None

Game Thoughts:
Nashville vs. Calgary is the feature game on a light night around the NHL. The road team has won each of their first three meetings this year. Nashville began the Western Canada road trip with wins over the Canucks and Oilers, and is looking for the sweep tonight. Calgary hasn't responded well since their big win in Vancouver, and is struggling offensively. It should be a close, tight game, and I see the Flames squeaking by in overtime.
Prediction: Flames 3, Predators 2 (OT)

The rest of tonight's predictions:
Capitals over Maple Leafs

You can follow the Red Light District on Twitter @RLDhockey!