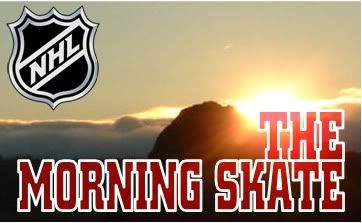 The Morning After:
Last night's scores:
Capitals 6, Maple Leafs 1
Predators 1, Flames 0
Predictions record: 1-1

My 3 stars from last night:
1. Alex Ovechkin, WSH (1 Goal, 4 Assists)
'Ovie' had a spectacular night with 5 points, and was all over the ice for the Caps.
2. Dan Ellis, NSH (22 Saves, Shutout)
Ellis had another great effort and kept the Flames off the scoreboard.
3. Mike Kunble, WSH (2 Goals)
Knuble netted 2 key goals in the 2nd period for Washington.
---

Today's Slate:
Red Wings @ Stars, 2:00 ET
Blackhawks @ Blue Jackets, 2:00
Devils @ Avalanche, 3:00
Bruins @ Kings, 4:00
Oilers @ Sharks, 4:00
Senators @ Canadiens, 7:00
Sabres @ Islanders, 7:00
Lightning @ Panthers, 7:00
Thrashers @ Hurricanes, 8:00
Wild @ Coyotes, 8:00
Rangers @ Blues, 8:00
Penguins @ Canucks, 10:00

Games of the Day:
New Jersey Devils @ Colorado Avalanche
3:00 ET… TV: Local Networks

Records:
Overall: Devils (32-12-1) … Avalanche (26-15-6)
Last Ten: Devils (6-4-0) … Avalanche (6-4-0)
Away/Home: Devils (16-5-1) … Avalanche (11-6-2)
Season Series: First meeting

Players to watch:
NJ- Patrik Elias
Elias is on a 4-game pointless streak, but will end that today.
COL- Kyle Quincey
Quincey has a bright future, but needs to play better – especially on the power play.

Projected Goaltenders:
NJ- Martin Brodeur (09/10 stats: 29-12-1, 2.14 GAA)
COL- Craig Anderson (09/10 stats: 22-11-5, 2.67 GAA)

Injury Report:
NJ- Paul Martin (arm, out), David Clarkson (leg, out), Dainius Zubrus (knee, out)
COL- Adam Foote (ankle, out), Chris Stewart (foot, probable), Marek Svatos (groin, out), David Jones (knee, out), Brett Clark (cheek, probable), Ruslan Salei (back, out)

Game Thoughts:
This is a rare matchup between these two, one that New Jersey usually gets the better of. Brodeur has solid career numbers against the Avs, and is determined to bounce back after a sluggish game in Phoenix. Meanwhile, this should be a good litmus test for Colorado. Can they take down the East's best defensive and road team?? I don't think so…
Prediction: Devils 3, Avalanche 1
---
Pittsburgh Penguins @ Vancouver Canucks
10:00 ET… TV: CBC, Local Networks

Records:
Overall: Penguins (30-18-1) … Canucks (27-18-2)
Last Ten: Penguins (4-6-0) … Canucks (6-2-2)
Away/Home: Penguins (16-10-0) … Canucks (18-7-1)
Season Series: First meeting

Players to watch:
PIT- Sidney Crosby
Out in Vancouver on HNIC, this is Crosby's time to shine.
VAN- The Sedins
In Minny, Daniel & Henrik were both held pointless for the first time for the first time since December 20th.

Projected Goaltenders:
PIT- John Curry (Career stats: 2-1-0, 2.40 GAA)
VAN- Roberto Luongo (09/10 stats: 23-14-2, 2.30 GAA)

Injury Report:
PIT- Marc-Andre Fleury (finger, questionable), Brooks Orpik (lower body, questionable), Chris Kunitz (abdomen, out), Brent Johnson (lower body, out)
VAN- Kevin Bieksa (ankle, out), Steve Bernier (groin, questionable), Ryan Johnson (foot, questionable), Aaron Rome (head, questionable), Michael Grabner (ankle, out)

Game Thoughts:
I've been looking forward to this one all week as HNIC should have a dandy tonight. Pittsburgh has won the first 2 on this Western Canadian swing, while the Canucks have struggled since losing last Saturday to Calgary. With Fleury possibly out for the Pens, it'd be a big advantage for Alain Vigneault's club. I think they get back on track with a win tonight.
Prediction: Canucks 4, Penguins 2

The rest of tonight's predictions:
Red Wings over Stars
Blackhawks over Blue Jackets
Kings over Bruins
Sharks over Oilers
Canadiens over Senators
Sabres over Islanders
Lightning over Panthers
Thrashers over Hurricanes
Wild over Coyotes
Blues over Rangers

You can follow the Red Light District on Twitter @RLDhockey!