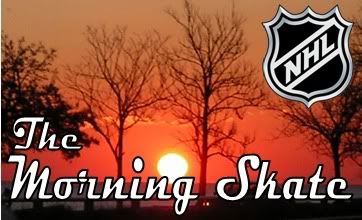 The Morning After:
Last night's scores:
Capitals 4, Bruins 1
Maple Leafs 3, Devils 0
Lightning 2, Thrashers 1
Canadiens 3, Canucks 2
Coyotes 1, Predators 0 (SO)
Stars 4, Wild 2
Avalanche 5, Blue Jackets 1
Kings 2, Rangers 1
Red Wings 4, Sharks 2
Predictions record: 5-3-1

My 3 stars from last night:
1. J.S. Giguere, TOR (30 Saves, Shutout)
On a night where the net-minders showed their mettle, 'Jiggy' had a great debut with the Leafs.
2. Ilya Bryzgalov, PHX (25 Saves, Shutout)
'Bryz' came up big for Phoenix, especially in a 10-round shootout vs. Nashville.
3. Jose Theodore, WSH (41 Saves, 1 GA)
Theodore made a lot of point-blank saves to keep the Caps tied or ahead.
Honorable Mention: J. Halak, A. Niittymaki, M. Modano, P. Rinne, B. Yip, R. O'Reilly, T. Galiardi, M. Turco, J. Howard, T. Holmstrom, R. Smyth, J. Thornton
---

Tonight's Slate:
Senators @ Sabres, 7:00 ET
Blues @ Blackhawks, 8:30
Hurricanes @ Flames, 9:00
Flyers @ Oilers, 9:30
Red Wings @ Ducks, 10:00

Games of the Night:
Ottawa Senators @ Buffalo Sabres
7:00 ET… TV: Local Networks

Records:
Overall: Senators (31-21-4) … Sabres (32-15-7)
Last Ten: Senators (9-1-0) … Sabres (4-4-2)
Away/Home: Senators (11-13-1) … Sabres (18-5-5)
Season Series: 3-0 Senators

Players to watch:
OTT- Jason Spezza
Dating back to before his injury, Spezza has scored in 6 straight games.
BUF- Thomas Vanek
Vanek is finally turning the corner after a 1st half slump.

Projected Goaltenders:
OTT- Brian Elliott (09/10 stats: 17-11-3, 2.50 GAA)
BUF- Ryan Miller (09/10 stats: 29-12-5, 2.10 GAA)

Injury Report:
OTT- Nick Foligno (leg, out), Pascal Leclaire (concussion, questionable), Jesse Winchester (knee, probable)
BUF- Patrick Kaleta (foot, doubtful)

Game Thoughts:
The streaking Sens make their way to HSBC Arena tonight to take on division-leading Buffalo. The Sabres' lead has been cut to just 5 points with the Sens' franchise-record winning streak. Miller and company have to treat this as a statement game. Ottawa has won every meeting this year, and Elliott hasn't lost to Buffalo in his career. I'm going against the grain… the streak ends tonight.
Prediction: Sabres 3, Senators 2
---
Detroit Red Wings @ Anaheim Ducks
10:00 ET… TV: NHL Net. (US), Local Networks

Records:
Overall: Red Wings (27-19-10) … Ducks (26-23-7)
Last Ten: Red Wings (3-3-4) … Ducks (6-4-0)
Away/Home: Red Wings (12-11-6) … Ducks (16-8-2)
Season Series: 2-1 Red Wings

Players to watch:
DET- Henrik Zetterberg
'Hank' scored a big goal last night, and has had good success vs. Anaheim in his career.
ANA- Bobby Ryan
After a 3-game pointless drought, Ryan is due for a big night.

Projected Goaltenders:
DET- Chris Osgood (09/10 stats: 7-8-4, 2.94 GAA)
ANA- Jonas Hiller (09/10 stats: 22-15-2, 2.68 GAA)

Injury Report:
DET- Johan Franzen (knee, out), Andreas Lilja (head, out)
ANA- Joffrey Lupul (back, out)

Game Thoughts:
Anaheim returns home from the east coast just in time to face Detroit, who won in San Jose last night. I'll be interested to see who's in net for the Wings, but I have a feeling Babcock will give Howard a rest in favor of 'Ozzie'. The Ducks currently have an 8-game winning streak on home-ice, and are 5 points behind the Wings in the standings. I like the Ducks in an exciting back-and-forth affair.
Prediction: Ducks 4, Red Wings 3 (SO)

The rest of tonight's predictions:
Blackhawks over Blues
Flames over Hurricanes
Flyers over Oilers

You can follow the Red Light District on Twitter @RLDhockey!