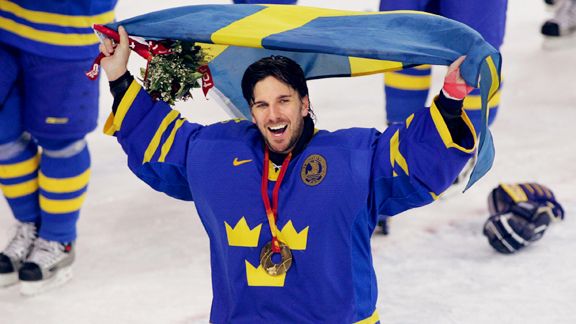 To kick off our Olympic coverage, we take a look at the five countries that have the best chance to make a run at the Gold Medal…



1A. Canada


As the host nation, Team Canada is under a ton of pressure to win Gold in Vancouver – anything less would be viewed as a failure to many Canadians. They boast the deepest and most talented roster out of the 12 countries in this great tournament. Their depth up front and on the back end is unheard of. But as is the case in most Olympics, the goaltender is the difference-maker in whether you win Gold or not. Brodeur and/or Luongo will be looked upon to carry Canada during the medal round.

Will they capture Olympic Gold?? There's no doubt that they can, but doing it under an enormous amount of pressure is a tall order. Going into Vancouver, Canada should be the favorites to come out on top… barely!



1B. Russia


Ovechkin, Malkin, Semin, Kovalchuk, Datsyuk, Radulov… are the enough pucks to go around?! The Russians easily have the most dynamic offensive attack in these Winter Games. Them and the Canadians are head-above-shoulders when it comes to Gold Medal contenders (on paper), hence the 1A and 1B designations. The goaltending for Russia should be solid; Nabokov and Bryzgalov are as good a 1-2 combo out there. Now if their defense can find a way to slow down some of the better nations.

Will they capture Olympic Gold?? I love their chances. I don't even think Canada's great blue-line would be able to contain the Russian attack. The Russians always show great heart and determination at international events like this.



3. Sweden


The reigning champs from 2006 will certainly make a run at Gold once again. But repeating is such a hard thing to do in the Olympics, as no other team than the Soviets have done it since Canada did it way back in the 40's and 50's. They'll have to ride the success of their goaltender Henrik Lundqvist, who led them to Gold four years ago. The Swedes are solid up front and on the back end, but I don't feel like they're built to repeat. With some of their best players ageing, young stars like Backstrom, Eriksson, and Kronwall will need to step up.

Will they capture Olympic Gold?? I don't think they will. I don't see them keeping up with either Canada or Russia, and could easily be beat by teams on their same level (U.S., Finland, etc.). Never count out 'Tre Kenor', though!



4. United States


Team USA general manager Brian Burke made a bold move by going with youth over experience. Only three players on the roster have previously been in the Olympics. Even though they lack the experience, the younger players are some of the more talented in the NHL. Players like Kane, Parise, Kessel, and Ryan can dazzle, making the offense of the American's dangerous. They have a great mix up front, but the questions lie on the back end. The U.S. probably has one of the worst blue-lines in these Games among the 'big seven'.

Will they capture Olympic Gold?? This will sound biased, but I wouldn't put it past them. All of their hopes of listening to the Star Spangled Banner on February 28 will be placed on the shoulders of Ryan Miller, though. He has to be spectacular between the pipes!



5. Slovakia


This may come as a surprise to you… but I think Slovakia could raise some eyebrows. Remember in 2006 when they went 5-0 in pool play, beating teams like Sweden, Russia, and USA in the process?? I understand they are a longshot, but they do have talent to beat some of the big boys. Hossa and Gaborik on the top line will be hard to stop, and Chara can dominate defensively. In net, if Jaroslav Halak can carry over his success he's had with Montreal this year, it'll increase their hopes of medaling.

Will they capture Olympic Gold?? Probably not; they don't have the depth to win it. But they could surprise people by claiming Bronze, which should be enough to consider them as a 'contender'. This will be the last Olympics for many of their players, so you know they'll leave everything on the ice.

Why Finland isn't on this list: Miikka Kiprusoff could really thrive on this stage, but I don't see the Finns scoring enough goals to compete for Gold.
Why Czech Republic isn't on this list: I don't like the make-up of their roster, and relying on Jagr to help carry the offense is a mistake.