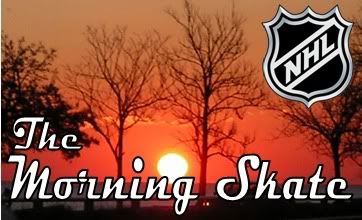 The Morning After:
Yesterday's scores:
Panthers 4, Maple Leafs 1
Devils 6, Blue Jackets 3
Bruins 4, Thrashers 0
Senators 2, Flyers 0
Lightning 3, Hurricanes 2 (OT)
Stars 3, Predators 1
Sharks 4, Wild 1
Blackhawks 2, Coyotes 0
Flames 3, Ducks 1
Oilers 3, Canucks 2
Predictions record: 6-3-1

My 3 stars from last night:
1. Antti Niemi, CHI (28 Saves, Shutout)
Niemi stood tall for the Blackhawks, in what Joel Quenneville marked as the 'biggest game of the year'.
2. Zach Parise, NJ (2 Goals, 1 Assist)
Parise had a big night for the Devils, including a highlight reel goal.
3. Tuukka Rask, BOS (27 Saves, Shutout)
Rask continued his great play with a solid shutout over 'Hotlanta'.
Honorable Mention: B. Elliott, M. St. Louis, I. Kovalchuk, T. Zajac, S. Clemmensen, D. Booth, L. Eriksson, J. Deslauriers, M. Lucic
---

Tonight's Slate:
Islanders @ Rangers, 7:00 ET
Penguins @ Capitals, 7:00
Canadiens @ Sabres, 7:30
Blues @ Red Wings, 7:30
Kings @ Avalanche, 9:00
Ducks @ Canucks, 10:00

Games of the Night:
Pittsburgh Penguins @ Washington Capitals
7:00 ET… TV: NHL Net. (US), Local Networks

Records:
Overall: Penguins (42-25-9) … Capitals (48-14-10)
Last Ten: Penguins (5-3-2) … Capitals (7-1-2)
Away/Home: Penguins (21-15-2) … Capitals (26-4-4)
Season Series: 2-0 Capitals

Players to watch:
PIT- Sergei Gonchar
Gonchar has 2 points and a minus-3 rating in the last 8 games… he HAS to be better.
WSH- Alex Ovechkin
'Ovie' has 7 points in the 2 games vs. Pittsburgh this year.

Projected Goaltenders:
PIT- Marc-Andre Fleury (09/10 stats: 33-19-5, 2.66 GAA)
WSH- Jose Theodore (09/10 stats: 26-7-6, 2.76 GAA)

Injury Report:
PIT- Evgeni Malkin (foot, questionable)
WSH- Brooks Laich (face, questionable), Scott Walker (knee, questionable), Boyd Gordon (back, questionable), Milan Jurcina (hernia, out)

Game Thoughts:
Oh yes, they do meet again! The hottest rivalry in the league takes center stage as the Pens will look to finally solve the Caps tonight. Sidney Crosby and company haven't been playing their best hockey of late, and have temporarily lost their lead in the division. Washington can cruise to the finish line, but you know they'll be jacked up for this one. It's a tough one to pick, as Pittsburgh needs it more. I'm going with the Caps, though.
Prediction: Capitals 4, Penguins 3
---
Los Angeles Kings @ Colorado Avalanche
9:00 ET… TV: Local Networks

Records:
Overall: Kings (42-24-5) … Avalanche (40-25-7)
Last Ten: Kings (5-4-1) … Avalanche (5-4-1)
Away/Home: Kings (21-12-2) … Avalanche (22-11-2)
Season Series: 2-0 Kings

Players to watch:
LA- Drew Doughty
Doughty has continued his solid play since the Olympic break, and scored the OT game-winner over Colorado on Monday.
COL- Paul Stastny
Stastny has been lighting it up this month (18 points in 11 games).

Projected Goaltenders:
LA- Jonathan Quick (09/10 stats: 39-21-4, 2.47 GAA)
COL- Craig Anderson (09/10 stats: 35-21-6, 2.53 GAA)

Injury Report:
LA- None
COL- Brandon Yip (shoulder, out), Stephane Yelle (leg, questionable), Ryan Wilson (concussion, out), David Jones (knee, out), David Koci (hand, out)

Game Thoughts:
For the second time in three days, the Kings and Avs meet up for a crucial game in the Western Conference standings. On Monday, L.A. held off the Avs in overtime thanks to Doughty's bomb from the point. Colorado gained a big point, but is looking for 2 tonight. If the Kings can find offense again, they have a good chance. But I have to lean towards the Avs here…
Prediction: Avalanche 4, Kings 2

The rest of tonight's predictions:
Rangers over Islanders
Sabres over Canadiens
Red Wings over Blues
Canucks over Ducks

You can follow the Red Light District on Twitter @RLDhockey!
Don't forget about our radio show at 1:00 ET next Tuesday!