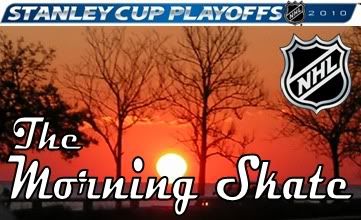 The Morning After:
Last night's scores:
Senators 5, Penguins 4
Flyers 2, Devils 1
Coyotes 3, Red Wings 2
Avalanche 2, Sharks 1
Predictions record: 2-2

My 3 stars from last night:
1. Derek Morris, PHX (1 Goal, 2 Assists)
Morris picked up 3 huge power play points, including the game-winning slapshot in the 3rd period.
2. Brian Boucher, PHI (23 Saves, 1 GA)
Did somebody say Philly had goaltending issues?! Boucher stood tall in the clutch, making 23 saves in Jersey.
3. Chris Neil, OTT (1 Goal, 1 Assist)
Neil had 2 points and 5 hits in Pittsburgh, and was a key contributor to their win.
'RLD Game-Changing Performance' of the night:
Chris Stewart… The Avs shocked everyone with a 2-1 win in the Shark Tank, thanks to a bounce that went Stewart's way. From the corner, he threw the puck at the net with just under a minute left. The puck deflected in off of Rob Blake's skate, shocking the Sharks in Game 1.
---
Tonight's Slate:
Montreal @ Washington, Game 1, 7:00 ET
Boston @ Buffalo, Game 1, 7:00
Los Angeles @ Vancouver, Game 1, 10:00

Games of the Night:
Montreal Canadiens @ Washington Capitals
Game 1, 7:00 ET… TV: VERSUS, TSN, Local Networks

Players to watch:
MTL- Tomas Plekanec
Plekanec called out Theodore and the Caps… can he walk the talk??
WSH- Mike Green
Green needs to play a strong two-way game tonight.

Starting Goaltenders:
MTL- Jaroslav Halak (Season stats: 26-13-5, 2.40 GAA)
WSH- Jose Theodore (Season stats: 30-7-7, 2.81 GAA)

Injury Report:
MTL- Glen Metropolit and Paul Mara (shoulder, out)
WSH- Jose Theodore (stinger, probable), Nicklas Backstrom (illness, probable), Tyler Sloan (upper body, questionable), Milan Jurcina (hernia, out)

Playoff Fever in D.C.:
The fans will 'Rock the Red'!

Game Thoughts:
After seeing the underdogs having success last night, you have to think the Caps will be ready for this one. Not many people are giving Montreal much hope, but as yesterday proved, anything can happen in the playoffs. Washington is a focused and determined bunch, though, and I think Ovechkin and the gang will pull away late.
Prediction: Capitals 5, Canadiens 2
---
Boston Bruins @ Buffalo Sabres
Game 1, 7:00 ET… TV: CBC, Local Networks

Players to watch:
BOS- Patrice Bergeron
Bergeron struggled (production wise) coming into the playoffs, but needs to be solid on both ends, and strong in the face-off circle.
BUF- Thomas Vanek
Vanek has had success throughout his career vs. Boston, and finished the season strong over the weekend.

Starting Goaltenders:
BOS- Tuukka Rask (Season stats: 22-12-5, 1.97 GAA)
BUF- Ryan Miller (Season stats: 41-18-8, 2.22 GAA)

Injury Report:
BOS- Marc Savard (concussion, out), Mark Stuart (finger, out), Dennis Seidenberg (forearm, out), Andrew Ference (hernia, probable)
BUF- Tim Connolly (foot, will play), Jochen Hecht (upper body, questionable), Drew Stafford (concussion, doubtful, out)

Playoff Fever in Buffalo:
'Party in the Plaza' where fans will watch on the big screen

Game Thoughts:
For starters, this could be the best game of the night. The goalie duel between Miller and Rask will be sensational, and these two are division rivals. Buffalo cannot allow the B's take Game 1 on the road. If the power play steps up, I like their chances. For the Bruins, Rask's colors may show early; will he be composed or rattled? I'd lean towards the former. It should be a good one, and I like the Sabres in overtime.
Prediction: Sabres 3, Bruins 2 (OT)
---
Los Angeles Kings @ Vancouver Canucks
Game 1, 10:00 ET… TV: VERSUS, CBC, Local Networks

Players to watch:
LA- Drew Doughty
I'm really interested to see how Doughty will perform in his first playoff game.
VAN- Alex Burrows
Look for Burrows to feed off the Sedins, and to stir the pot with L.A. after the whistle.

Starting Goaltenders:
LA- Jonathan Quick (Season stats: 39-24-1, 2.54 GAA)
VAN- Roberto Luongo (Season stats: 40-22-4, 2.57 GAA)

Injury Report:
LA- None
VAN- Willie Mitchell (concussion, out), Ryan Johnson (foot, out), Sami Salo (leg, questionable), Shane O'Brien (shoulder, questionable), Rick Rypien (face, questionable), Aaron Rome (undisclosed, questionable)

Playoff Fever in Vancouver:
Towel Power!!

Game Thoughts:
To me, the biggest thing to watch tonight is the play of the two goaltenders. Both Quick and Luongo have faced criticism for their play down the stretch, and need to start off well tonight. This is a good opportunity for the Kings to strike early and gain confidence in this series, given the Canucks' back end situation. In the end, though, I think the fans carry the Canucks to a series-opening 'W'.
Prediction: Canucks 4, Kings 2

You can follow the Red Light District on Twitter @RLDhockey!
Don't forget about our radio show at 1:00 ET next Tuesday!