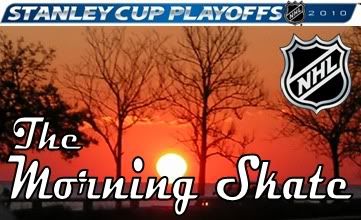 The Morning After:
Last night's scores:
Red Wings 3, Coyotes 0
Penguins 7, Senators 4
Flyers 4, Devils 1
Predators 4, Blackhawks 1
Sharks 2, Avalanche 1 (OT)
Predictions record: 4-1

My 3 stars from last night:
1. Sidney Crosby, PIT (2 Goals, 2 Assists)
87 continues to show why he's the best in the world. After last night, he has 11 points in 4 playoff games.
2. Jimmy Howard, DET (29 Saves, Shutout)
Howard delivered in the clutch, stopping all 29 Coyotes shots in the Game 4 shutout.
3. Jeff Carter, PHI (2 Goals, 1 Assist)
Carter scored a couple big power play goals as the Flyers beat New Jersey – again.
'RLD Game-Changing Performance' of the night:
Joe Pavelski… Let's be clear here: the Sharks' season was on the line last night. It was even more in jeopardy when the game headed to overtime. And for the second time in the series, Pavelski stepped up at the perfect time. This time, he ripped a laser past Craig Anderson to tie the series at 2 apiece.
---
Tonight's Slate:
Buffalo @ Boston, Game 4, 7:00 ET
Washington @ Montreal, Game 4, 7:00
Vancouver @ Los Angeles, Game 4, 10:00

Games of the Night:
Buffalo Sabres @ Boston Bruins
Game 4, 7:00 ET… TV: VERSUS, CBC, Local Networks
Bruins lead, 2-1

Players to watch:
BUF- Derek Roy
Even without Vanek by his side, Roy has to find a way to create offense (just 1 point in the series).
BOS- Marco Sturm
Sturm has yet to get a point in this series… I have a feeling that changes tonight.

Starting Goaltenders:
BUF- Ryan Miller (Playoff stats: 1-2, 2.36 GAA)
BOS- Tuukka Rask (Playoff stats: 2-1, 2.01 GAA)

Injury Report:
BUF- Thomas Vanek (foot, questionable), Jochen Hecht (finger, out), Matt Ellis (upper body, questionable)
BOS- Marc Savard (concussion, out), Mark Stuart (finger, out), Dennis Seidenberg (forearm, out)

Game Thoughts:
Buffalo is in major trouble here. They've had difficulty scoring without Vanek in the lineup, and the Bruins have seized the momentum. Rask has definitely shown up in this series, out-playing Miller so far. You know the Sabres are going to throw everything at the B's, but I like the way Claude Julien's gang is playing right now. Go with Boston in another close one…
Prediction: Bruins 2, Sabres 1
---
Washington Capitals @ Montreal Canadiens
Game 4, 7:00 ET… TV: TSN, Local Networks
Capitals lead, 2-1

Players to watch:
WSH- Alex Ovechkin
I'm calling a 3-point night for AO tonight, as he thrives off playing in Montreal.
MTL- Michael Cammalleri
'Cammer' was a minus-4 in Game 3, and needs to bounce back with a strong offensive effort here.

Starting Goaltenders:
WSH- Semyon Varlamov (Playoff stats: 2-0, 2.12 GAA)
MTL- Carey Price (Playoff stats: 0-0, 3.87 GAA)

Injury Report:
WSH- Joe Corvo and Shaone Morrisonn (undisclosed, questionable), Tyler Sloan (upper body, questionable), Milan Jurcina (hernia, out)
MTL- Paul Mara (shoulder, out)

Game Thoughts:
In the postseason's first blowout, the Capitals ran away with a 5-1 win in Game 3. Brooks Laich and company blitzed Montreal in the 2nd period and never looked back. How does Montreal respond?? They're turning to Price tonight, which tells me they don't have much faith in the goaltending right now. The Habs keep it within arms-length, but Washington prevails.
Prediction: Capitals 4, Canadiens 2
---
Vancouver Canucks @ Los Angeles Kings
Game 4, 10:00 ET… TV: VERSUS, CBC, Local Networks
Kings lead, 2-1

Players to watch:
VAN- Mikael Samuelsson
Samuelsson has been Vancouver's only consistent offensive threat in this series.
LA- Dustin Brown
Captain Brown is going to score in this game… period.

Starting Goaltenders:
VAN- Roberto Luongo (Playoff stats: 1-2, 3.20 GAA)
LA- Jonathan Quick (Playoff stats: 2-1, 2.45 GAA)

Injury Report:
VAN- Willie Mitchell (concussion, out), Ryan Johnson (foot, out), Aaron Rome (undisclosed, doubtful)
LA- None

Game Thoughts:
If it weren't for a timely swipe of the glove by Luongo in overtime of Game 1, the Kings would be going for a sweep tonight. They chased Luongo on Monday, and will be looking to get in his head again. Vancouver has to stay out of the box the best they can, as L.A. is 7-for-12 on the man advantage in the series. I think the Kings could easily win this, but I'll say the Canucks steal it in overtime.
Prediction: Canucks 4, Kings 3 (OT)

You can follow the Red Light District on Twitter @RLDhockey!
Don't forget about our radio show at 1:00 ET on Tuesday!