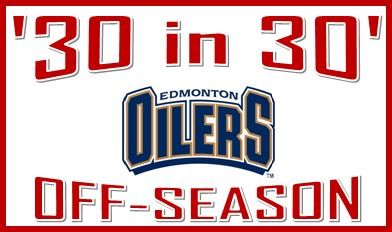 Free Agent List…
UFA: Fernando Pisani, Mike Comrie, Jason Strudwick, Aaron Johnson
RFA: Sam Gagner, Andrew Cogliano, Marc Pouliot, Gilbert Brule, Devan Dubnyk, Jeff Deslauriers, Theo Peckham, Ryan Potulny, J-F Jacques

Salary Cap Space…
About $16 million
Summer Shopping List…
1 Forward
- Matt Cullen or Manny Malhotra
2 Defensemen
- Henrik Tallinder, Jordan Leopold, or Carlo Colaiacovo
Possible Trade Bait…
D Sheldon Souray
LW Ethan Moreau
C/W Robert Nilsson

Top 5 Prospects…
1. Jordan Eberle, C
2. Magnus Paajarvi-Svensson, LW
3. Jeff Petry, D
4. Riley Nash, C
5. Alex Plante, D

Outlook…
The next few years are going to be spent rebuilding in Edmonton, as the team looks to get back on track after a handful of disappointing seasons. The #1 overall pick will certainly help put a face on the franchise – something they have lacked since Ryan Smyth was traded. GM Steve Tambellini has his work cut out from him, and in no way will this be a quick fix.

Instead of spending the big bucks on free agents, Tambellini and hockey ops president Kevin Lowe will look to replenish the system through the draft. If they are successful at doing so – which the organization hasn't been for some time – the time spent putting the pieces back in the puzzle will be well worth it.