Starting today, we will be having awards debates all week. Anthony, Michael, and I will be taking one nominee from the four marquee awards, and making a case as to why that individual should win. Today is the Calder, and Wednesday will be the Vezina. They will be posted throughout the week… enjoy!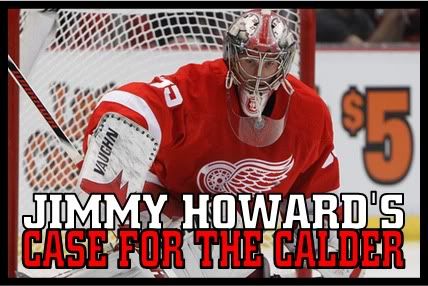 2009/10 Stats:
37-15-10, 2.26 GAA, .924 SV%, 3 SO

There was a time in late-November and into December where the Red Wings were sputtering with a bevy of injuries. The goaltending also wasn't performing up to par, as Chris Osgood was struggling mightily, and Jimmy Howard was a bit inconsistent. That's when the then-25 year old Howard grabbed the bull by its horns and took the starting spot away from Ozzie.

From then on, the wheels started turning in Detroit, and the team returned to their old ways… and they couldn't have done it without Howard.

#35 in net for Detroit looked like a much different goaltender from his cameo appearances in previous seasons. He was in position, standing tall, and making big save after big save as the offense was inconsistent when all of the injuries occurred.

After the Olympics, Howard went 16-2-2 with a 2.22 GAA (including an 11-0-1 mark in one-goal games). Detroit went from 9th to 5th in the Western Conference during that span, turning into the hottest and most dangerous team in the league heading into the playoffs.

When looking at Howard's competition for the Calder Trophy, he would have had a great chance to win if there wasn't a 6'7" defenseman in his way. On the contrary, out of Tyler Myers, Matt Duchene, and Howard, you can make a solid argument that the Detroit netminder was the most valuable to his team. I don't know if the Wings make the playoffs without Howard's great play, to be honest.

Also, when comparing Howard's numbers to Steve Mason's from a year ago, he's got the Blue Jacket beat in all but one category (shutouts).

Howard has as good of a case as the other two nominees to win the Calder. He was great for the duration of the season, and shouldn't lose consideration for the trophy because of the team in front of him (like he might). One thing is for sure… the Winged Wheel has a budding star in Howard.