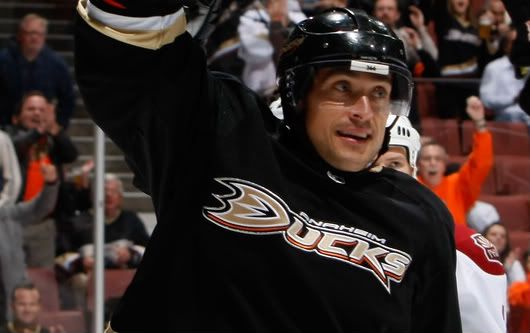 Future Hall of Famer Teemu Selanne

released a statement

today, saying that he will be returning for another season with the Ducks:


After thinking about it for the last few months, I've decided to return to play
for the Ducks. I'm excited about the summer additions the team has made. I know
this team can win.
He will

reportedly

make $3.25 million this season, not including bonuses.

The 'Finnish Flash' netted 27 goals in 54 games with Anaheim last season, and will once again be a welcome addition to their forward corps and power play unit. Selanne has 606 career goals, but could have more if injuries hadn't slowed him down over the last couple years. Between the injuries and a late decision to come back in 2007/08, Selanne has only played in 145 games over the last three seasons.

The 40-year-old should be slotted alongside fellow veteran Saku Koivu on Anaheim's second line. But is that the only veteran that Selanne could play with this season? There have been

reports suggesting

that Paul Kariya could follow Selanne back to Anaheim, and the interest is reportedly mutual.

A potential top-six featuring youngsters Ryan Getzlaf, Corey Perry, and Bobby Ryan, and established veterans Kariya, Selanne, and Koivu would be pretty damn solid. With those presumed top two lines, I'd be hard-pressed to think the Ducks wouldn't make a strong push to return to the postseason.

Also, don't forget they have wingers Jason Blake and Joffrey Lupul, who could both see third-line minutes if this situation played out (or used as trade bait).

Even though Kariya has lost a step and isn't producing quite like he did in the Mighty Ducks days, he'd be a nice veteran presence and could benefit playing alongside Selanne again. The fans would certainly have mixed feelings on him coming back, but the hate would probably wear off as the season went on.

Anaheim is a better team with Selanne back in the saddle… now the question is whether he's bringing Kariya with him. Either way, I like the Ducks' outlook this season.



Photo credit: Getty Images