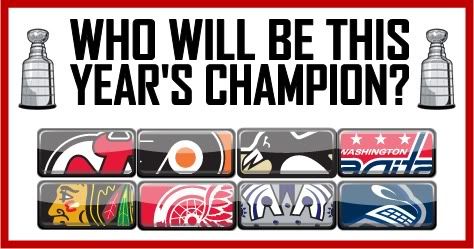 Up until opening puck-drop on Thursday, I'll be slowly unveiling my Stanley Cup pick for the upcoming season. Are the Blackhawks going to repeat? Is Washington prepared to win in the playoffs? Will Detroit capture their 12th Stanley Cup? Those questions will be answered in the next few days.
I did something similar to this last year, taking who I felt were the ten best teams and crossing them off one at a time. This time I'm narrowing it down to eight from the beginning… here is the list (in alphabetical order):
Chicago
Detroit
Los Angeles
New Jersey
Philadelphia
Pittsburgh
Vancouver
Washington
I feel strongly that one of those eight teams will win the Stanley Cup in June.
So over the next few days, I'll be pointing out one weakness as to why seven of those teams will not win the Cup. On Wednesday, one strength will be used as a reason why I think that team will win it all.
Who am I knocking out today? The two finalists last season… Chicago and Philadelphia
Chicago Blackhawks
Why won't they win the Cup this year? Difficulty of repeating
GM Stan Bowman and company survived the cap purge by not having to deal a guy like Patrick Sharp, though the other youngsters he traded away will be missed. Also, I think the goaltending will be just fine because of the defense in front of the net. Once the new faces gel with Chicago's strong core, this will again be a team to be reckoned with.
However, I don't see the Blackhawks going deep again in the playoffs. It is so hard to repeat as Cup champions in this league – it's the hardest trophy in all of sports to win in back-to-back seasons – especially with youth filling the slots vacated by Dustin Byfuglien, Kris Versteeg, and Andrew Ladd. The 'Hawks will be a solid team in the West again, but will have a target on their back all year. It eventually got to Pittsburgh last year, the same will happen to Chicago this year.
Philadelphia Flyers
Why won't they win the Cup this year? Question marks in net
In the 2009 postseason, behind journeymen veterans Michael Leighton and Brian Boucher, Philadelphia recorded the best team goals against average of the 16 that qualified, en route to the Stanley Cup Final. The two netminders were clutch all year, making the saves they needed to in the end.
The biggest uncertainty for me this year, though, is their goaltending. I doubt that Leighton and Boucher will be able to have that same success this time around. Plus, they didn't have to face Pittsburgh or Washington in the first three rounds. The Flyers matched up well against the Devils, Bruins, and Canadiens; two of them were lower seeds as well.
If GM Paul Holmgren is reluctant to grab a quality goalie mid-season, I don't see them winning 16 playoff games.