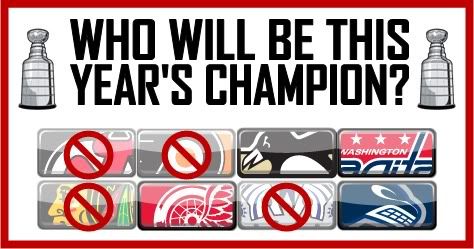 Up until opening puck-drop on Thursday, I'll be slowly unveiling my Stanley Cup pick for the upcoming season. Are the Blackhawks going to repeat? Is Washington prepared to win in the playoffs? Will Detroit capture their 12th Stanley Cup? Those questions will be answered in the next few days.
I did something similar to this last year, taking who I felt were the ten best teams and crossing them off one at a time. This time I'm narrowing it down to eight… here is the list (in alphabetical order):
Chicago
Detroit
Los Angeles
New Jersey
Philadelphia
Pittsburgh
Vancouver
Washington
I feel strongly that one of those eight teams will win the Stanley Cup next June.
So over the next few days, I'll be pointing out one weakness why seven of those teams will not win the Cup. On Wednesday, one strength will be used as a reason why I think that team will win it all.
Sunday I took last year's finalists, Chicago and Philadelphia

,

while yesterday I scratched off Los Angeles and New Jersey

. Who am I knocking out today? The Sporting News' predicted Stanley Cup Final matchup.
*Note: You can probably already figure out that my conference final matchups are Pittsburgh-Washington and Detroit-Vancouver…
Detroit Red Wings
Why won't they win the Cup this year? Jimmy Howard
Let's just put it this way… the Red Wings do not make the playoffs in 2010 without Jimmy Howard. Amid all the injuries, Howard kept everything glued together during the tough stretches. He was a nominee to win the Calder Trophy with 37 wins and a 2.26 goals against average.
That said, his success in the regular season didn't exactly translate to the postseason. Yes, he did come out on top in a seven-game series with Phoenix, but Howard gave four goals or more in six of the 12 playoff games. That kind of inconsistency has me a bit cautious when it comes to forecasting Detroit's playoff outlook and chances of winning the Cup. Another concern would be the Red Wings' age, as their additions this summer didn't make them any younger.
Washington Capitals
Why won't they win the Cup this year? Defensive personnel
Are the Presidents' Trophy winners from a year ago any better this season? They still have the main core intact from the most prolific offensive attack and highest-scoring team in the NHL in 2009/10. GM George McPhee watched most of his pending free agents walk on July 1, though, and was reluctant to bulk up the blueline through the frenzy.
When you look at their defense now, it's practically the same group from last spring without a lot of depth. Prospects John Carlson and Karl Alzner are entering their first full season in the league, which should give the blueline a boost. They didn't lose to the Canadiens because of their back end; it was a combination of things. But this defense still isn't strong enough to win 16 playoff games in my opinion. Until McPhee decides to bring a true shutdown that can somewhat strike fear into an opponent, I will continue to believe this is a 'regular season team'.
My Stanley Cup Final prediction for the 2010/11 season is Pittsburgh vs. Vancouver. Who's my Cup champ? Come back tomorrow to find out.