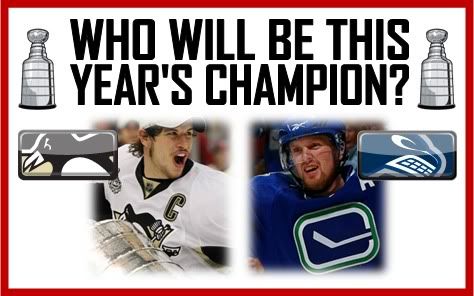 Up until opening puck-drop on Thursday, I'll be slowly unveiling my Stanley Cup pick for the upcoming season. Are the Blackhawks going to repeat? Is Washington prepared to win in the playoffs? Will Detroit capture their 12th Stanley Cup? Those questions will be answered in the next few days.
I did something similar to this last year, taking who I felt were the ten best teams and crossing them off one at a time. This time I'm narrowing it down to eight… here is the list (in alphabetical order):
Chicago
Detroit
Los Angeles
New Jersey
Philadelphia
Pittsburgh
Vancouver
Washington
I feel strongly that one of those eight teams will win the Stanley Cup next June.
So far I've eliminated last year's finalists (

'Hawks and Flyers

), the two clubs in the Kovalchuk sweepstakes this summer (

Kings and Devils

), and the Sporting News' Cup Final pick (

Caps and Wings

).
That means I'm down to Pittsburgh and Vancouver for this year's final. Who do I see prevailing in this matchup? The team that has actually lifted Lord Stanley before in their history.
Vancouver Canucks
Why won't they win the Cup this year? Discipline
Let me just start off by saying that I really like the make-up of this Canucks team and think this is their best shot at winning the Cup – hence, the reason why I have them winning the West. GM Mike Gillis pushed the right buttons this summer by adding on to the defense and switching up the look of the depth at forward. Plus, Luongo's relinquishing of the 'C' won't hurt either.
The issue I have in picking the Canucks winning the Cup is what they've shown against Chicago the last two years. When the 'Hawks got under their skin, they retaliated and took some stupid penalties at key moments. Yes, Shane O'Brien isn't in the fold anymore, but Kevin Bieksa and Alex Burrows are – two that have been a product of this in the past. This is something they must correct in the postseason if they wish to go all the way.
In the end, though, it's hard to think of many flaws in Vancouver as they are legit Cup contenders this season.
Pittsburgh Penguins
Three reasons why I believe they will win the Cup this year…
1. Sidney Crosby
Crosby's determined to get the Pens back to the final after losing in the second round to Montreal. That alone should tell you Pittsburgh will be dangerous come playoff time… but add to the fact that he improves an area of his game every year (first his defense, then face-offs, followed by goal-scoring). What will he do this year to enhance his game? It's scary to think about. Sid is the best player in the NHL right now, and I have no doubt he will lead the Pens to another deep playoff run.
2. Revamped defense
Despite the loss of Sergei Gonchar, GM Ray Shero wasted no time in picking up two of the more sought-after defensemen on the market. Zbynek Michalek has been hiding in Phoenix as not many people know just how good he is. He's a quality shut-down defender and can even chip in offensively. Shero's other signing on the back end was ex-Devil Paul Martin, who has solid puck-moving skills. Adding veterans Michalek and Martin alongside talented youngsters like Alex Goligoski and Kris Letang will be a big boost to the back end.
3. Overall depth
What's the number one thing a team needs to win the Cup? Depth. The Penguins have just that on defense and up front. I've already mentioned the blueline, but the offense can strike on numerous lines. Crosby and Evgeni Malkin (who's due for a big bounce-back year) are on two different lines; Mike Comrie and Arron Asham were shrewd signings that went unnoticed; and x-factor Jordan Staal will be returning from injury in late November or December. If injuries occur to the forward mix, Shero can reach into the AHL and grab some useful players.
Final thoughts: A lot of the same cast of characters from the 2009 Cup-winning team is still around. This group knows how to win and I think they'll ring in the new arena with their fourth championship banner. Penguins over Canucks in six.
I'm officially tired of writing predictions… DROP. THE. PUCK.