Pittsburgh's 12-game win streak that started on Nov. 17 is over. However, Sidney Crosby's point streak is still alive and kicking at 19 games in a row. Over this time, Sid has racked up an astounding 38 points, catapulting himself to the top of the heap in the NHL. Entering Wednesday's action, Crosby – with 53 points – held a nine-point lead on Steven Stamkos, who sits in second.
Let's take a look at his remarkable run…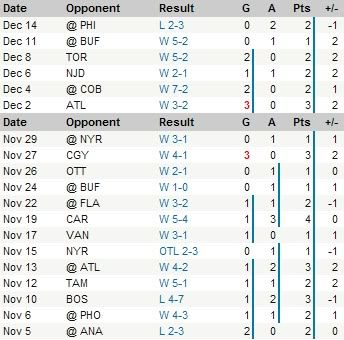 The longest point streak in NHL history is 51, done by Wayne Gretzky in the 1983-84 campaign. For Crosby to break that, he would have to keep this up through Game 72 on Mar. 25. That's not happening.
But to bring perspective to this streak from Crosby, let's compare it to some other recent long streaks.
- Dany Heatley: 22 games in 2005/06 (38 points)
- Paul Stastny: 20 games in 2006/07 (29 points)
- Corey Perry: 19 games in 2009/10 (26 points)
- Phil Kessel: 18 games in 2008/09 (28 points)
Point total wise, Heatley is the only one to match Crosby, but in three more games (and with Daniel Alfredsson and Jason Spezza on his line). Still impressive.
Stastny, Perry and Kessel never had a game with over three points more than twice during the streak. Crosby has done it five times, including two hat tricks and a four-point performance.
Crosby, still known more his playmaking skills than goal-scoring despite last year, has scored 20 goals in these 19 games. He has done so on 69 shots, a 28.9 shooting percentage. Not too shabby.
So with the streak currently standing at 19, how much longer will Crosby be able to keep this up? The Penguins play right away tonight against the Rangers. Let's take a look at their next six games – which would put Crosby's streak at 25 – and his career success against them.
- Wed. 12/15, vs. Rangers… 51 points in 36 games
- Mon. 12/20, vs. Coyotes… 7 points in 5 games
- Wed. 12/22, vs. Panthers… 25 points in 20 games
- Thu. 12/23, @ Capitals… 33 points in 19 games
- Sun. 12/26, @ Senators… 16 points in 19 games
- Tue. 12/28, vs. Thrashers… 31 points in 20 games
It's hard to say how long this streak will go. What say you? 25 games? 30? 51?!?
Photo credit: Getty Images