San Jose hopes a different look in net brings different success in the postseason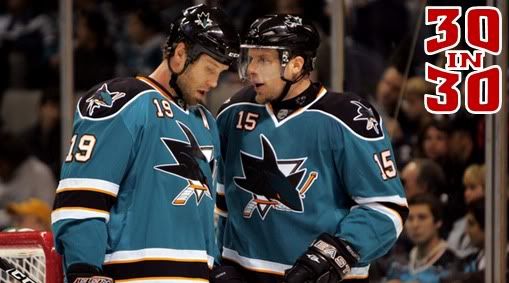 When you look back at San Jose's convincing second-round series win over Detroit, it seemed like that was the 'hump' they were trying to get over. In some ways, it was. The Red Wings are the litmus test for almost every team; especially for the Sharks, who had the Wings on the ropes in 2007 but couldn't close the deal.
It was a big statement for the Sharks to beat Detroit in five games. But from an outsider's point of view, the subsequent series against Chicago had almost as many negatives as there were positives the round before. Todd McLellan's gang was swept by the eventual champion Blackhawks in the conference finals, seemingly out-played in every game.
One of those areas that GM Doug Wilson hoped to improve this summer was the defense – particularly when veteran Rob Blake retired. They were out-manned going up a deep Chicago club, and even attempted to pry RFA Niklas Hjalmarsson with an offer sheet. 'Hawks GM Stan Bowman was having none of that.
San Jose was also rumored to be in the mix for the likes of Tomas Kaberle, Sheldon Souray, and Kevin Bieksa on the trade front, and was a co-favorite to sign Willie Mitchell… to no avail.
Instead, Wilson decided to grab two netminders to replace Evgeni Nabokov, longtime standout between the pipes for this organization. Wilson signed one of them on July 1 – Antero Niittymaki – who comes over from Tampa Bay.
And just when it appeared Niittymaki and Thomas Greiss would share the crease, they nabbed Antti Niemi in early September to boost the depth in goal (after striking out on numerous defensemen).
It seemed to have been a controversial decision to pickup Niemi when the team was satisified with what they had. At the same time, when there's no other impact defensemen to be had, you might as well add a Stanley Cup-winning goaltender.
The only other notable signing that Wilson made in the off-season was Jamal Mayers, who is expected to be a regular fourth-liner at best. Defenseman Andreas Lilja is in training camp as a tryout.
Three key re-signings made the organization were Patrick Marleau (four years, $27.6 million), Joe Pavelski (four years, $16 million), and Devin Setoguchi (one year, $1.8 million).
- Ryan Porth
Depth Chart: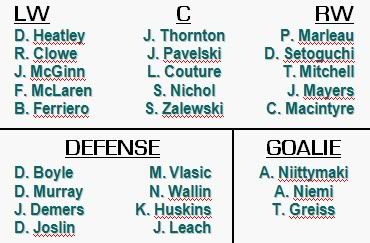 Additions: Antero Niittymaki, Antti Niemi, Jamal Mayers
Subtractions: Evgeni Nabokov, Rob Blake, Manny Malhotra, Jed Ortmeyer, Brad Staubitz
Fresh Faces From the Farm:
- Benn Ferriero, Tommy Wingels, and even Steven Zalewski provide nice depth up front from the AHL if/when injuries occur.
- Defensively, Derek Joslin and Nick Petrecki are probably on the outside looking in; but like above, could be the first called upon when need be.
X-Factor: Joe Pavelski
If the Sharks get the playoff version of Pavelski for stretches at a time, the offense could be scary.
Breakout: Logan Couture
Even though the stats don't show it, Couture showed flashes of brilliance late last year.
On the Hot Seat: Devin Setoguchi
Despite his 31-goal output in 2008/09, you have to wonder if another down year could make Setoguchi expendable for a defenseman.
Bold Prediction: San Jose's three-year stay atop the Pacific ends this season.
The Final Word: The Sharks still need to get over that proverbial 'hump' before people start believing they'll advance farther than round two or three. With Joe Thornton, Dany Heatley, and Marleau doing their thing, along with the still-improving Pavelski, the offense is pretty potent. They'll be solid again in the regular season, but I don't see this team having much postseason success unless they improve the back end mid-season.
RLD Staff Predictions:
Anthony- 3rd Pacific Division; 7th Western Conference
Patrick- 1st Pacific Division; 3rd Western Conference
Ryan- 2nd Pacific Division; 5th Western Conference
Photo credit: Getty Images