When I first booked my trip to Pittsburgh back in November, I knew seeing the Winter Classic up close and personal would be a great experience. As it turned out, it was a lot more than just that as my week in the Steel City was one I'll never forget.
- I got to Pittsburgh on Wednesday to hang out with some friends that live in Tennessee, but travel to the Steel City every Christmas to visit their families. We visited Market Square in downtown, and then made our way to CONSOL Energy Center to check out the new digs for the Penguins.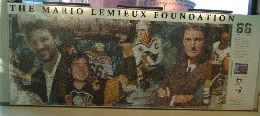 The front of the building is the best part of the whole thing. The Pens did a great job putting in touch-screen video displays, which featuring Penguins greats, along with a virtual Stanley Cup where you can see every name etched on Lord Stanley. Mario Lemieux's mosaic is awesome, too. Cool stuff.
The rest of the arena is beautiful… the open concourses were an awesome feature, allowing you to grab a drink and still see the game.
- On Thursday I finally made my way down to Heinz Field. After a couple media obligations, I headed down to the field to check out the setup. It was pretty cool to look up into the gold-clad seats and picture 70,000 fans.
After finding out that my hotel had NHL Network (in HD, no less!), I headed over to CONSOL once again to take in the WB-Scranton Penguins and Hershey Bears AHL tilt. It was a fairly boring game (Hershey won 1-0), but it was still nice to take in a game in the new arena.
- Friday was the busiest day on my slate. Between the Alumni Game and both teams' practices, it was an all-day ordeal at Heinz Field. Buddy Oakes of Preds On The Glass and I took in Washington's practice along – where else – the glass. As for all of those post-practice complaints about the ice? Yeah, those were legitimate.
The league threw a curve-ball, as well, announcing that the game was being pushed back to a prime-time start. The change forced me to re-schedule my flight, which was due to leave Pittsburgh just before 8:00 p.m. on Saturday.
Buddy and I checked out Primanti Bros. downtown on the night of New Year's Eve. I ordered the Pittsburgher cheese steak, which was pretty damn good. Thereafter we watched the riveting New Year's celebration (and when I say riveting, I'm being 100% sarcastic). A '2010' script changed to '2011' at midnight, followed a three-minute fireworks show.
- When Saturday rolled around, I was just ready for the game to get here. But we had to wait another seven hours than previously scheduled, which meant that Buddy and I had to hang out at a little joint called Sammy's in downtown to pass the time. (Good hot dogs, by the way).
One of the highlights of the trip was running into the Geico Caveman outside of the hotel! I told him to say hello to Mike Green for me...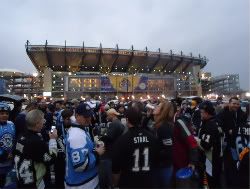 The tailgating prior to the gates opening was a festive atmosphere. When I walked around the stadium to take it all in, I felt out of place without a jersey on. I'd estimate 90-95% of the fans in attendance had a jersey on, most with the Winter Classic design.
Seeing the Winter Classic in person was pretty amazing. I couldn't get rid of the goosebumps when the teams walked out onto the ice, as it was one of the only times that both fan bases were cheering.
After the game I went up to the upper deck to interview some fans and get a feeling for what it was like. Two Caps fans – Hannah and Josh – described the atmosphere as 'awesome' and 'perfect', and said visibility wasn't an issue from high up despite the rain. A Pens fan – who made the trip from Ontario – said it was an 'awesome experience'.
- I came home Sunday morning and was back to covering the Predators less than 24 hours later. Can you say whirlwind?
---
I had the pleasure of meeting a lot of people I had met over Twitter; Brian Metzer (From the Point), Sean Leahy (Puck Daddy) and Joe Yerdon (Pro Hockey Talk) were among those I finally got to meet in person. I was also able to meet Doc Emrick, who we had on RLD Hockey Talk back in September, as well as E.J. Hradek and Yahoo!'s Nick Cotsonika.
Overall, I enjoyed the Winter Classic in Pittsburgh more than the Draft in Los Angeles. Covering the game was pretty cool as every scrum seemed to be 10-15 people deep; for Crosby, they had to have two separate scrums. There was so much media at the event that it almost felt like the Super Bowl. For me, the weather did not put a damper on the game. I was just disappointed it was 50 degrees around town and not 30; it didn't feel like winter in Pittsburgh.
I expected this to be a fantastic experience, but it was much better than I thought it would be. It was my first trip to Pittsburgh in eight or ten years. The city was great, seeing the brand-new Pens arena was cool, and the Winter Classic itself was special.
If you missed any of our coverage, you can
check it out here
.
Up next? The All-Star Game in Raleigh!
Photos credit: Ryan Porth