Using the All-Star break as a checkpoint for making the playoffs in the past, there is still a lot of time to sneak into the playoff picture. However, at this point in the year, not many playoff spots change hands when it's all said and done.
Ever since the league expanded to 30 teams, 19 teams (out of 144 spots in total) sitting in playoff position fell out of the top eight. Take a look at some graphs that highlight the changes over the last 10 years at the All-Star break (end of January in Olympic years)…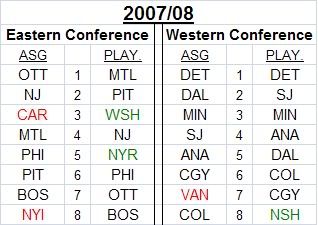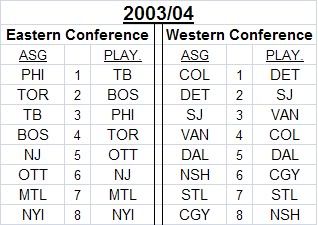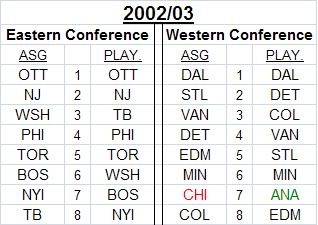 - To further touch on the stat mentioned above, teams in the top seven of their conference make the playoffs 90.9% of the time.
- Teams in the top six make the playoffs 94.4% of the time.
- Teams in the top five make the playoffs 97.2% of the time.
- Teams in the top four make the playoffs 98.6% of the time.
- Teams in the top three make the playoffs 99.3% of the time.
- Teams holding the first of second seed have not missed the playoffs.
- Only one division leader has failed to make the playoffs in this time (2008 Hurricanes).
What could this mean for this year's postseason?
- Vancouver, Detroit, Philadelphia and Tampa Bay are virtual locks for the 'second season'; also, Dallas and Boston are looking good, too. All six are division leaders and can't see any of them dropping out.
- On average, there have been 2.8 teams per year since the lockout to jump from outside the top eight into the playoffs (three in each of the last four years).
- In 2010, the West had one postseason change from the All-Star break picture, the East had two; in 2009, the West had two changes, the East had one, etc. If that trend continues I believe Atlanta is in trouble in the East, while two teams could easily fall out in the crazy Western Conference playoff picture (you have to think L.A. will find its way in, right?).