The Champion: Pittsburgh Penguins
Road to the Cup:
Round 1 – 4-2 over 5) Philadelphia
Round 2 – 4-3 over 2) Washington
Round 3 – 4-0 over 6) Carolina
Round 4 – 4-3 over 2) Detroit
In their own words: Brian Metzer,

From the Point
"Though I am old enough to have been able to appreciate all three of the Penguins Stanley Cup Championships, their victory over the Detroit Red Wings in 2009 will always hold a special place with me.
The team had spent the previous two seasons taking big steps forward in their development – first making it back to the playoffs for the first time in 2006-07 and then rolling through the Eastern Conference en route to a 6-Game loss at the hands of the Detroit Red Wings in 2008…ironically the same team that they would knock off one year later.
They dealt with a ton of adversity, as they watched both Sidney Crosby and Sergei Gonchar go down with injuries during the regular season. The injuries along with some internal strife saw them slip 10-points out of the playoffs in mid-February and their head coach, Michel Therrien was fired.
Enter "Disco" Dan Bylsma.
Bylsma breathed life into the team and had them believing in themselves in a way that I hadn't seen in Pittsburgh since the days of "Badger" Bob Johnson. The group went on an unbelievable run that didn't end until they hoisted the Stanley Cup on June 12, 2009.
The victory was special for a ton of reasons -- Crosby etched another accomplishment onto his already glowing resume, Evgeni Malkin showed himself to be a big time player in winning not only the Art Ross but the Conn Smythe as the Most Valuable Player during the playoffs. Guys like Bill Guerin (Pops), (The USS) Hal Gill and (The Piece) Rob Scuderi forever endeared themselves to Penguins fans.
That entire run to the Cup was full of superstitions (Bylsma's pre-game burritos, China Jack, Malkin's parents), new traditions (the big screen), winning unbelievably pressure packed games on the road and a special camaraderie between players, fans, and media that showed the hockey world exactly why Pittsburgh is and always will be a hockey town that deserved to keep its team and get a new building two years earlier."
Conn Smythe winner: Evgeni Malkin
Evgeni Malkin was easily most dominant player in the 2009 playoffs; thus, he was more than deserving of the Conn Smythe when Pittsburgh won the Cup. This came after a 2008 postseason in which he was heavily criticized by pundits for 'disappearing' in the finals that June vs. Detroit.
In 2009, 'Geno was impossible to contain as he racked up 36 points in 24 playoff games (he had 37 points in 43 regular season games in 2010/11). Malkin was on another world in the second and third rounds, where he tallied 19 points in 11 games. He had a memorable four-point performance in Game 2 against Carolina, but was also vital in Pittsburgh's Game 4 win over Detroit in the finals.
Malkin's 36 points in a single postseason was good enough to be mentioned in the same breath as Wayne Gretzky and Mario Lemieux, as far as all-time records go.
The Runner-Up: Detroit Red Wings
Top-seeded Detroit, the defending champs, had a fairly easy road to the final (despite a speed-bump in Round 2). They breezed by Columbus and made quick work of Chicago in the conference final, but Anaheim took the Wings to seven games in the second round. Obviously, Detroit won Game 7 thanks to a dramatic goal by Danny Cleary late in regulation.
The Wings had Pittsburgh on the ropes in the Cup final after their huge 5-0 win in Game 5. It seemed like the Cup was theirs for the second straight year. However, they let it slip away with a pair of 2-1 losses to the Penguins.
The Upset: WCQF – 8) Anaheim over 1) San Jose
Speaking of Anaheim… the upset-minded Ducks were anything BUT an eight-seed. Led by Chris Pronger, Scott Niedermayer, Jonas Hiller and a deep offensive attack, Anaheim was the last team that San Jose wanted to face in Round 1.
The Sharks won the Presidents' Trophy in 2008-09, but knew right from the start that ousting Anaheim was going to be a challenge. Hiller stood on his head to help the Ducks take a 2-0 series lead back home. After San Jose won Game 3, Anaheim shut them out in Game 4. The Sharks kept their season alive the following game, but had no answer for Ryan Getzlaf and company in Game 6.
This will go down in the record books as an 8 vs. 1 upset; but Anaheim was an elite team despite their seeding and showed it against rival San Jose.
Other notable upsets: ECSF: 6) Carolina over 1) Boston
Best series: ECSF – 4) Pittsburgh over 2) Washington
This Penguins-Capitals series may have been one of the best series in playoff history. It had star power; it had momentum swings; it had overtime; it had controversy. It had it all.
Washington sent the early statement by winning Games 1 and 2 on home-ice, which featured the dueling hat tricks by Alex Ovechkin and Sidney Crosby in Game 2. As Pittsburgh headed back to the Igloo, they knew the odds were against them. Game 3 was forced to overtime, but Kris Letang scored and the rest was history. The Pens controlled Game 4, then took Game 5 in overtime as well, thanks to #71.
After Washington answered with their own overtime win in Game 6, Pittsburgh ran the Caps out of the building in a Game 7 that failed to live up to its billing.
Game 7's:
ECQF: Capitals 2, Rangers 1
ECQF: Hurricanes 4, Devils 3
ECSF: Hurricanes 3, Bruins 2 (OT)
ECSF: Penguins 6, Capitals 2
WCSF: Red Wings 4, Ducks 3
SCF: Penguins 2, Red Wings 1
The Bracket: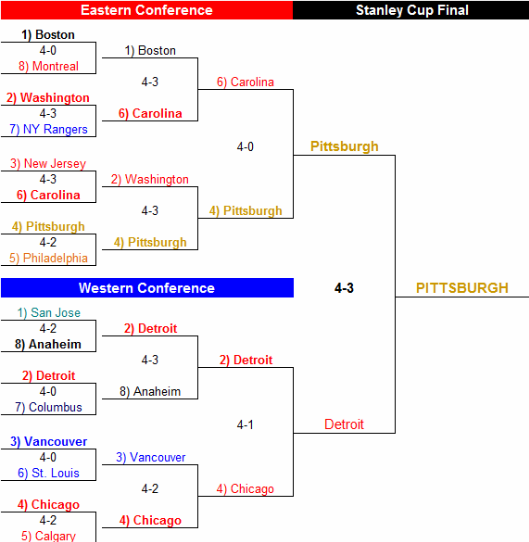 Photo credit: Getty Images