Vancouver and San Jose ready for epic fish fight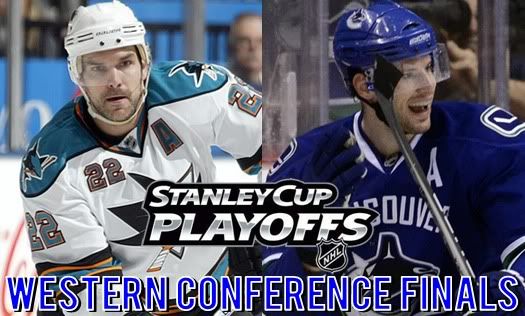 Series Schedule…
How They Got Here…
Canucks
Round 1: Defeated 8) Chicago in 7
Round 2: Defeated 5) Nashville in 6
Sharks
Round 1: Defeated 7) Los Angeles in 6
Round 2: Defeated 3) Detroit in 7
Season Series…
Canucks won (3-0-1)
Previous Playoff Meetings…
First playoff meeting
Playoff statistics…
Point Leaders
VAN: Ryan Kesler, 15 pts (5 G, 10 A) … SJ: Ryane Clowe, 13 pts (4 G, 9 A)
Power Play
Canucks (8/36, 22.2%) … Sharks (7/51, 13.7%)
Penalty Kill
Canucks (43/50, 86.0%) … Sharks (43/52, 82.7%)
Tale of the Tape…
Forwards-
Edge: Sharks… Until the Sedins wake up, San Jose has the edge here.
Defensemen-
Edge: Canucks… San Jose plays solid team 'D', but Vancouver's unit can be suffocating at times.
Goaltending-
Edge: Even… Roberto Luongo is playing well, but so is Antti Niemi (who is 6-0 in playoff series in his career).
Special Teams-
Edge: Canucks… Their high-powered man advantage makes the difference here.
Coaching-
Edge: Even… Alain Vigneault nor Todd McLellan have much experience this deep in the postseason. Both have pushed the right buttons in the first two rounds.
Experience-
Edge: Sharks… Neither franchise has won a Stanley Cup, but the Sharks have a couple more veterans that know how to win.
Health-
Edge: Sharks… They only have a slight edge with Manny Malhotra down and Mikael Samuelsson banged up.
Keys to the Series…
Canucks-
1. Killer instinct… One thing the Canucks have lacked in these playoffs is a killer instinct. Against Chicago, they let a 3-0 series lead slip away. There have also been games where they've let their opponents hang around. That needs to change here in this series.
2. Steady Luongo… When not facing Chicago, Luongo is a different goalie in the playoffs. The numbers don't lie (17-11, 1.87 GAA, .934 SV%). The Canucks' chances increase greatly if Luongo posts similar numbers against a high-powered Sharks team.
Sharks-
1. Win special teams battle… Vancouver possesses elite special teams units that have performed in the regular season and playoffs. San Jose has to step up in this area and force the Sedins to chip in at even strength.
2. Secondary scoring… Their best players shined the brightest in Game 7 against the Wings, but what if the likes of Joe Pavelski and Dany Heatley get going in this series? Scary.
X-Factors…
Canucks-
Henrik and Daniel Sedin
… Has anybody seen the Sedin twins this postseason? Me neither. Though they have combined for 19 points in 13 games, Daniel and Henrik are both a minus-8 rating through two rounds. Vancouver won't be able to advance with Ryan Kesler doing it all offensively again. They need two lines producing.
Sharks-
Patrick Marleau
… The oft-scrutinized Marleau showed up in Game 7 with an effort that was a 180-degree difference from "gutless." Can that success carry over to the conference finals? In last year's series with Chicago, Marleau scored five of the team's seven goals. I don't think the Sharks can afford to have Marleau collect just one point in this series.
Key Matchup…
Joe Thornton vs. Ryan Kesler
… Two of the better two-way forwards in this postseason have been Thornton and Kesler. And what a thrill this will be to see them go head-to-head! Kesler has shut down Jonathan Toews and Mike Fisher in back-to-back series, and will be facing another top center here. Both centers can dominate offensively, get under an opponent's skin defensively, and be physical.
Why the Canucks will win…
They have very few weaknesses. Vigneault's crew is strong and balanced at every position. I don't know if San Jose has anyone that can slow down Kesler. So if he carries over his success and the Sedins find their groove, look out! This has been Vancouver's year from start to finish, it feels like. It's their 40th anniversary, they were at the top of a handful of statistical categories and they got over the Chicago hump in the first round. Lastly, Luongo was rock-solid in the second round; look for him to keep that momentum going.
Why the Sharks will win…
McLellan's gang may be the deepest team, offensively, remaining in the playoffs. They possess three lines that can strike at any time. Vancouver had the best offense in the regular season; San Jose matches that in this series. The big key for San Jose for is how the defense and goaltending will perform. At times against Detroit, the blueline was turnover-prone. As for Niemi; will he eventually hit a wall from two straight deep playoff runs? I don't think so. San Jose is a scary team to play right now, considering they are coming off the emotional Game 7 win over Detroit.
Final Thoughts…
Neither Vancouver nor San Jose has won the Stanley Cup. The winner of this series will get the chance to do just that. It is really hard to pick against Team Teal at this time; there's a special feeling surrounding that team. But I have to stay true to my pre-postseason Cup pick, which was Vancouver. I think the Canucks will find a way to get their hands on the Clarence Campbell Bowl. This is going one helluva series!
PREDICTION… CANUCKS IN 7
Photos credit: Getty Images