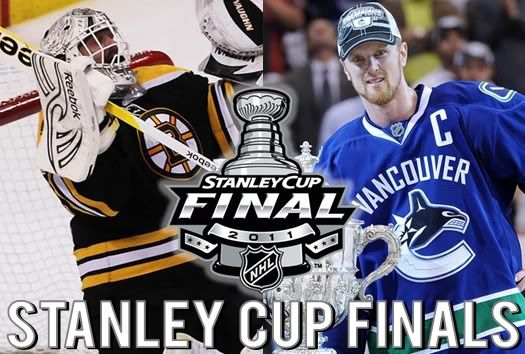 Series Schedule…

How They Got Here…
Canucks
Round 1: Defeated 8) Chicago in 7
Round 2: Defeated 5) Nashville in 6
Round 3: Defeated 2) San Jose in 5
Bruins
Round 1: Defeated 6) Montreal in 7
Round 2: Defeated 2) Philadelphia in 4
Round 3: Defeated 5) Tampa Bay in 7
Season Series…
Bruins won (1-0)
Playoff statistics…
Point Leaders
VAN: Henrik Sedin, 21 pts (2 G, 19 A) … BOS: D. Krejci & N. Horton, 17 pts
Power Play
Canucks (17/60, 28.3%) … Bruins (5/61, 8.2%)
Penalty Kill
Canucks (58/72, 80.6%) … Bruins (50/63, 79.4%)
Tale of the Tape…
Forwards-
Edge: Canucks… When Ryan Kesler and the Sedins are clicking, it may be the best unit in the league.
Defensemen-
Edge: Even… Boston's unit is more top-heavy, but both defense corps are solid in their own right.
Goaltending-
Edge: Even… Despite Tim Thomas' pair of shutouts in the conference final, Roberto Luongo has been dynamite since being benched in Game 6 against Chicago. I mean, both are Vezina finalists!
Special Teams-
Edge: Canucks… They hold the advantage on both the PP and the PK; furthermore, Boston's PP is – well, it speaks for itself.
Coaching-
Edge: Even… Alain Vigneault nor Claude Julien have ever made it this far, but have pushed the right buttons this postseason.
Experience-
Edge: Even… Vancouver has gone 40 years without a Cup; Boston has a 39-year drought of their own. Neither franchise has been to the Cup final since the early 90's.
Health-
Edge: Bruins… They don't have as many nicks and bruises as Vancouver does.
Keys to the Series…
Canucks-
1. Match Boston's physicality
… You can bet the B's are going to try to get physical with the high-powered Canucks. Vigneault's gang has to match that, finish every hit and get in the Bruins stars' kitchen.
2. Play loose
… The pressure is on Vancouver in this series. Between the Cup drought and them being the Presidents' Trophy winners (among other things), the pressure is going to be big. The Canucks have to stay focused and play loose.
Bruins-
1. Superb penalty kill
… The special teams are heavily in the Canucks' favor. Boston's PK, which has been inconsistent this spring, must step up in this series and cover for their poor man advantage. The Canucks are 8-2 when they score on the power play this postseason.
2. Thomas out-play Luongo
… Vancouver may be able to get by if Thomas out-plays Luongo, but I don't think Boston can survive if Luongo out-plays Thomas. The 37-year-old Vezina favorite has to be clutch and more consistent in this series.
X-Factors…
Canucks-
Alex Burrows
… It would help the Canucks immensely if the third piece of their top line was on his A-game. Burrows comes into this series with five-game point and three-game goal-scoring streaks. Zdeno Chara and Dennis Seidenberg will be focused on slowing down the Sedins; so the potential is there for Burrows to find some space and make something happen, like he has done on occasion in the playoffs.
Bruins-
Patrice Bergeron
… Kesler has been a beast in these playoffs. What is Boston's answer to him? Bergeron. The two-way pivot has been vital to the Bruins' success this spring, doing a little bit of everything – winning faceoffs, playing great defense and chipping in on offense. Along with the top defense pairing, Bergeron will play a key role in the B's trying to contain Vancouver's attack up front.
Key Matchup…
Zdeno Chara vs. the Sedin twins
… Chara and Seidenberg have the task of slowing down the Sedins. No easy task. But when you look back to the first two rounds, the twins were contained by great defensive pairings when facing Chicago and Nashville. Chara, especially, needs to physically let the Sedins know he is there on every shift. If Chara and Seidenberg can keep the Sedins at bay, it may force a possibly-gimpy Kesler to propel the Canucks past the finish line.
Why the Canucks will win…
This is their time. 40 years has been long enough. Vancouver possesses all of the ingredients to win hockey's Holy Grail. They have talent and depth up front, a solid defense corps and a goalie that is getting better with each passing series. The Canucks also have the necessary intangibles – from special teams to coaching to an effective checking line. Boston plays a style that could potentially wear them down in a long series. However, hockey's best team since the season on-set is primed to be raising the Cup at the end of this series.
Why the Bruins will win…
Like Vancouver, Claude Julien's Bruins have exorcised some demons this spring. After losing back-to-back years in Game 7 on home-ice, they've won two such games this postseason. This is a confident team without pressure – a scary combo – going into the final. Thomas is going to have to be a difference-maker in this series… but the same goes for their special teams. While the penalty kill has to step up, how much longer can they keep winning without an effective power play? Other than that, they are well-built and fully capable of pulling the mild upset.
Final Thoughts…
I don't think the Canucks are vastly better than the Bruins, but I'm picking them to win this series in five. Here's why. For some reason, I don't think this series is going the distance, yet, I see the Canucks winning it on home-ice. Also, Boston showed signs of vulnerability a few times against Tampa Bay – enough so that the Canucks could make it a quicker series than it should be. It will be a hard-fought, competitive series from the opening puck-drop.
I can see the B's winning this series, but I can't see Vancouver losing it. The Canucks will claim their first Stanley Cup, with Ryan Kesler taking home the Conn Smythe.
PREDICTION… CANUCKS IN 5
Photos credit: Getty Images