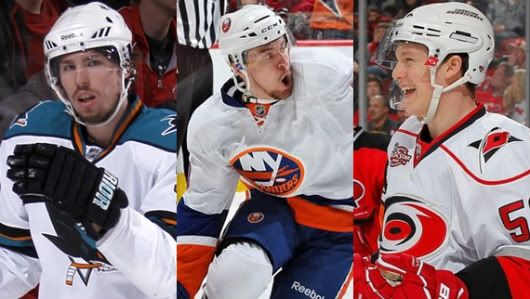 Leading up to the Awards show on June 22nd, we will be making a case for each nominee for the major awards as to why they should take home the hardware. Today, we continue with the Calder, given to the top rookie.
Logan Couture
By Ryan Porth
When it comes to all-around rookies in the 2010-11 season, no one was better than San Jose's Logan Couture.
For most of the season, Couture was bouncing around between the first and second line. He (quietly) scored 32 goals and racked up 56 points. Of his 32 goals, 8 were of the game-winning variety (tops amongst rookies). Couture's +18 rating was second amongst rookie forwards (behind Boston's Brad Marchand).
Additionally, he was a great player on the defensive side of the puck. Sharks coach Todd McLellan played Couture a lot of important minutes (17:49 average); he looked anything but a rookie, making plays on a nightly basis in the neutral zone. McLellan's confidence in Couture stretched to the faceoff circle, where Couture sported a 53.4 percentage.
The Guelph, Ontario, native was an integral part of the Sharks not only making the playoffs, but winning the division.
As Team Teal struggled with consistency, Couture was consistent. When his forward 'mates went through ups and downs, Couture was clutch, particularly before the All-Star break when he scored six game-winning goals. And down the stretch, when the Sharks took off, Couture put up 23 points in the final 30 games.
When you compare Couture to the other Calder nominees – Michael Grabner and Jeff Skinner – his all-around capabilities are evident. He had more goals than Skinner, more assists and points than Grabner, and logged more ice-time than either of them.
Couture may not have had the highlight-reel goals like the figure-skating Skinner or the incredibly speedy Grabner, but the Sharks' pivot is definitely worthy of winning the Rookie of the Year.
---
Michael Grabner
By Patrick Hoffman
When looking at this year's Calder Trophy candidates as the NHL's top rookie, it is easy to see why Logan Couture (San Jose Sharks), Jeff Skinner (Carolina Hurricanes) and Michael Grabner (New York Islanders) were all selected.
With that said, it appears that the dark horse to win this trophy is Grabner. Grabner, who like Skinner was on a non-playoff team, showed exactly what both the Vancouver Canucks and the Florida Panthers missed/will be missing out on going forward.
In 76 games this season, Grabner put up 34 goals and 52 points, good for third in rookie scoring and tied for second on the team behind John Tavares, who finished with 67 points. Not bad for a 23-year-old that was passed over by two other NHL franchises in the last calendar year.
When looking at Grabner's stats, probably the most impressive thing that sticks out is not just the 34 goals, but what he did when his club was shorthanded. While killing penalties, Grabner was the Islanders' most dangerous player as he scored 6 shorthanded goals; many of them were of the spectacular variety. Whenever he touched the puck, the crowd at the Nassau Coliseum buzzed with excitement because they knew that they had a chance to score against the other team's power play.
What is also impressive is how often Grabner shot the puck. Grabner fired 228 shots on goal, good for 40th in the NHL and third on the team behind Matt Moulson (237) and Tavares (243). Grabner has a quick and accurate wrist shot and if given the room to do so, is not afraid to use his underrated slap shot.
Grabner also provided a lot of speed this season for the Islanders. His speed helped generate many good scoring chances and also enable him to score on many breakaways this year. It was his speed that also garnered a lot of attention at the NHL Skills Competition when he was named the NHL's fastest skater.
Because of his terrific play this season, Grabner was rewarded by the Islanders organization with a five-year contract. The new deal shows how much faith the team has in Grabner and going forward, Grabner will make good on that deal for the organization.
---
Jeff Skinner
By Carolyn Christians
The other nominees had remarkable seasons and deserve unqualified praise for their achievements. And another handful of rookies, those who didn't even make the top three, should be recognized for tremendous debut seasons in the NHL. What set Carolina Hurricanes Jeff Skinner apart and why am I confident his name will be called next Wednesday?
The easy answer begins with his scoring statistics – 31 goals, 32 assists, 63 points (rookie leader), 16:43 average TOI.
Lesser-known stats, which Carolina fans will tell you were the game-changers and why all eyes followed him whenever he stepped on the ice:
- Skinner drew 45 penalties on the season,
best amongst all players
(compared to Stamkos at 35, Ovechikin with 31).
- Here's the situational breakdown of his 31 goals: 4 tied the game, 10 gave Carolina a lead, and 8 put them up by 2. Thirteen of his 31 were scored in the third period. He also scored 4 out of 10 tries in the shootout.
Skinner earned an invitation to play in the All-Star Game as the youngest ever, a distinction previously held by Steve Yzerman. When he became the 7th youngest player in the NHL to reach the 30-goal mark April 6th, only the second 18-year-old to reach that milestone since 1990 (Sidney Crosby was the other), the buzz about Skinner ratcheted up another notch.
What the stats don't tell you is that not only does he have the incredible hands of an elite goal-scorer, but he battles hardest, excelling, when it matters most. His fearless skating moves and creativity with the puck remind you of nothing you've seen before.
Unlike the Sharks, the Hurricanes didn't bring much in the way of offensive threats supporting Skinner in the lineup – he faced the top NHL defensemen nightly and beat them often enough.
Like Logan Couture did for San Jose, he changed the way opposing teams played against Carolina, allowing veterans Eric Staal, Erik Cole and Tuomo Ruutu to have their most productive seasons in years.
Many have said his relative youth (Skinner is more than three years younger than the other nominees) and that he is a "true rookie", right out of juniors, shouldn't matter. Perhaps, but it does in this, a subjective poll of jaded hockey journalists. Skinner's is the definitive fresh face as a teenager playing with the energy and creativity of someone who doesn't know he's not supposed to be able to do that. Further, he carries himself with a sincere and humble demeanor that's as old school as they come.
To the rest of the outstanding rookie class… sorry, you never had a chance.
Photos credit: Getty Images