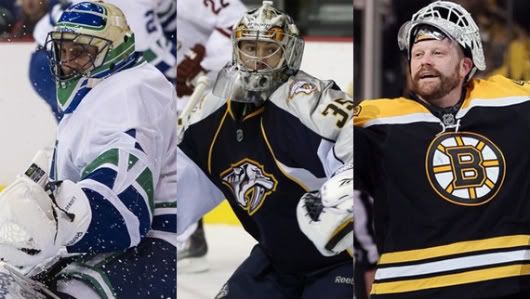 Leading up to the Awards show on June 22nd, we will be making a case for each nominee for the major awards as to why they should take home the hardware. Today, we start with the Vezina, given to the top goaltender.
Roberto Luongo
By Patrick Hoffman
Not looking at his play in the Stanley Cup final or the rest of the postseason, it is easy to see why Vancouver Canucks netminder Roberto Luongo is a finalist for the Vezina Trophy.
Much like he has throughout his career as a Canuck, Luongo put together another terrific regular season. In 60 games, the 32-year-old had 38 wins (good for first in the NHL), a 2.11 goals against average (second in the NHL), a .928 save percentage (fourth in the NHL) and 4 shutouts.
The two numbers to really look at here are the goals against and the save percentage. For Luongo, his goals against average this season was a career best and his save percentage was second to the .931 save percentage he posted with the Florida Panthers in the 2003-04 season.
While Luongo had a better defense in front of him than Boston's Tim Thomas, the Vezina front-runner, did, Luongo still managed to put a bunch of games together where he made 30 saves or more and was one of the team's best players on the ice on a nightly basis. In the regular season, that is all a goaltender really has to do and this year, Luongo was one of the best at it.
Luongo may never get the credit he deserves because of the team he plays for (best in the league this season) and the defense he has in front of him. With that said, Luongo was one of the top goaltenders in the NHL this season and deserves to win the Vezina Trophy as much as Thomas, or Nashville's Pekka Rinne, does.
---
Pekka Rinne
By Ryan Porth
Was there any other goaltender that meant more to his team than Pekka Rinne did to the Predators? I don't think so. Now, I understand the Vezina is not given to the most valuable goaltender; but night in and night out, Rinne was a difference-maker in the 2010/11 season.
Rinne put up career highs in the major statistical categories – wins (33), goals-against average (2.12) and save percentage (.930). In each of the previous two seasons, the Finland native tallied seven shutouts; he recorded six this season. With his microscopic GAA, it speaks to his consistency.
Between Nov. 18 and Feb. 17, Rinne was 17-9-4 with a 1.72 GAA and .941 save percentage. He was also clutch down the stretch to help vault the Preds into the playoffs, including a great 44-save performance against Columbus to clinch a postseason berth.
On a nightly basis, he would make saves that you wouldn't think were possible, causing the opposition to look to the sky in disbelief. He's been doing it ever since arriving in Music City, but everyone now knows what he's capable of after his
overtime save
against Vancouver's Kevin Bieksa.
Though Rinne has the numbers and highlight-reel saves, he had to bail out his team on more nights than not. Of the 16 playoff teams, Nashville scored the second-least amount of goals. But it was Rinne, who was under pressure to hold opponents to two goals or less, that stood on his head and carried the Preds to make getting into the playoffs possible.
He may not be the odds-on favorite to win this award, but 'Peks' certainly deserves it. Eventually, he'll have a Vezina on his mantle.
---
Tim Thomas
By Erika S.
After winning the Vezina trophy in 2009 and then becoming replaceable in the following season, Tim Thomas has had an inspiring 2010-11 season – a season worthy of the 2011 Vezina trophy.
Much attention is given to Thomas' "unorthodox" style, but it's a style that suits him. Very few goaltenders could play as he does and put up the same statistics. In fact, in Game 3 of the Stanley Cup Final, one analyst described Thomas as the only goaltender in the league "without a five-hole."
His uniqueness is one of the many reasons he deserves the Vezina.
His bounce-back season has been one for the record books. He ended the season as the league leader in save percentage with .938, breaking Dominik Hasek's NHL record of .937. Thomas was also second in shutouts (Henrik Lundqvist had two more than Thomas), and the leader in GAA with 2.00.
But more important than statistics is Thomas' personality. Funny, humble, and well liked by his teammates, Thomas also has served as the model of perseverance. Once he got to the NHL at the age of 28, he never stopped trying to better himself and his game. "If you do reach some high point, you got to find another one to shoot for or else you start going backwards," Thomas has said. "I want to keep trying to accomplish as much as I can."
For Thomas, that next step is his first Stanley Cup. And he probably wouldn't mind another Vezina Trophy as icing on the cake.
Photos credit: Getty Images