Hiller's health and Selanne's decision important for high-powered Ducks
The 2010-11 Anaheim Ducks were a streaky bunch, but they caught fire at just the right time. In the final 20 games, Randy Carlyle's gang went 15-5 to clinch home-ice in the first round of the playoffs. However, they failed to take advantage of it as they were knocked out by Nashville in a back-and-forth, six-game series.
One reason for the Ducks' torrid late-season run was the play of Corey Perry. In a 14-game span, Perry scored 19 goals and put the team on his back in what was the most dominant individual stretch of the NHL season. Not only did he score 19 goals, but a good amount of them were in clutch, late-game situations. As a result, Perry won the Hart and Rocket Richard trophies.
Perry makes up one-third of the NHL's best top line. Ryan Getzlaf registered 76 points while only playing in 67 games, the second straight year where he has shown durability issues. Getzlaf, the team captain, is still a premier center and capable of taking a game over. Bobby Ryan,
as the sports world saw on this play
, is an unbelievable talent that is still coming into his own.
An uncertainty on offense heading into training camp is Teemu Selanne. Is he coming back, or is he retiring? All reports indicate that the Finnish Flash is trying his best to return to the Ducks lineup, as long as his left knee will allow it. Selanne had off-season knee surgery, which was another indication about his intentions of playing again. He is not expected to make a decision until camp opens.
The Ducks need Selanne in the lineup because of his locker room presence and on-ice production. At age 40, he had 31 goals and 80 points last season. To you, does that sound like someone who is ready to call it quits?
In the second half of last season, the biggest question mark was Jonas Hiller. He only played in three games following the All-Star break due to vertigo. Ray Emery and Dan Ellis were brought in to hold the fort, and they were successful in doing so. Hiller stated recently that he no longer has the vertigo symptoms, which is great news for the Ducks.
If Selanne returns and Hiller remains healthy, the offense and goaltending are in good shape. What about the defense?
The Ducks blue-line is still a suspect group. Lubomir Visnovsky led all NHL defensemen in points last year, but can he put together back-to-back healthy seasons? How will Cam Fowler, who had 40 points and a -25 rating, fare in his sophomore campaign? Can Toni Lydman and Francois Beauchemin help keep enough pucks out of the net? It's a defense that was lit up by Nashville in the playoffs and has lots of question marks going into the 2011-12 season.
GM Bob Murray wasn't too active in the off-season. When he was active, he took some players off of Edmonton's hands. Murray traded for center Andrew Cogliano and defenseman Kurtis Foster in separate deals, while also signing enforcer J.F. Jacques and netminder Jeff Deslauriers for depth purposes. Cogliano, who underachieved as an Oiler, will probably make the biggest impact.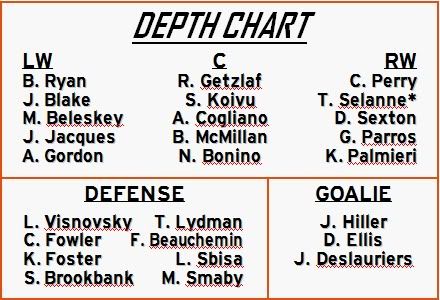 Additions:
Andrew Cogliano, Kurtis Foster, Matt Smaby, J.F. Jacques, Jeff Deslauriers, Andrew Gordon
Subtractions:
Todd Marchant, Ray Emery, Andy Sutton, Andreas Lilja, Jarkko Ruutu, Kyle Chipchura
Fresh Faces from the Farm:
- Kyle Palmieri, first-rounder in 2009, played in 11 games last year (including the playoffs). He will be given the best chance to make the team out of camp.
- Peter Holland, also a first-rounder in 2009, isn't far behind. That said, he may need another year of seasoning.
- Keep an eye on Devante Smith-Pelly, a power forward that turned heads at the Memorial Cup in May and Team Canada's World Junior camp in August.
X-Factor: Jonas Hiller
Put simply, the Ducks are a better team with Hiller between the pipes. Will the vertigo stay away?
Breakout: Andrew Cogliano
After failing to live up to expectations in Edmonton, Cogliano may benefit from a change of scenery. He will certainly be given the chance after a respectable payday.
On the Hot Seat: Francois Beauchemin
The veteran blue-liner enters a contract year with a lot of company/competition on the back end.
Bold Prediction:
Perry takes a step back and fails to reach 40 goals and 90 points.
The Final Word:
On paper, the Ducks are a playoff team because of their offensive firepower. In the rugged Western Conference, though, the defense will need to rise to the occasion in front of Hiller, who has to stay healthy.
RLD's Anaheim related off-season posts:
July 21: What if Pittsburgh never won the 2005 lottery? (
Link
)
July 29: Pacific Division Off-season Grades (
Link
)
August 14: Ducks need Selanne to return (
Link
)
Photo credit: Getty Images