Bruins begin their Cup defense with same cast of characters
Hockey fans in Beantown had to wait 39 years between championships, but they found Cup glory in June when the Bruins edged Vancouver in an emotional seven-game series. After a memorable Stanley Cup run, Claude Julien's gang will look to put the Cup hangover aside and go for it again. And if there's anyone that can do that, it's these Bruins.
All of the main pieces are back. Compared to recent Cup champs, there is very little turnover from the team that went all the way. While Mark Recchi was valuable, Tomas Kaberle was a non-factor and Michael Ryder was inconsistent during their time in Boston. The team also didn't sustain many injuries in their Cup run, which means they didn't have to spend all off-season recovering from surgeries, etc.
Nathan Horton's concussion was the biggest injury from the Bruins' spring, and he is reportedly set to go for the season. Another Bruin with a concussion, Marc Savard, is not. GM Peter Chiarelli recently said Savard will not play in 2011-12 and could be done for good.
The best thing going for the Bruins is their superb duo between the pipes. Vezina and Conn Smythe winner Tim Thomas had an unbelievable campaign that surely cannot be repeated. That said, he's still an elite goalie at 37 years old. If he happens to falter, Tuukka Rask is there to pick up the pieces. Rask could start on a handful of other teams and is considered to be the best backup in the league.
In front of Thomas and Rask is a deep and stingy blue-line, led by Zdeno Chara. The 6-foot-9 behemoth was a Norris Trophy finalist a year ago and was his dominant self in the postseason. Chara is a model of consistency and should be in the running for the Norris again. His defense partner, Dennis Seidenberg, had an extremely underrated playoff and is a perfect complement to Chara.
The newbie on the back end is Joe Corvo, who was acquired from Carolina in July. He essentially replaces the void left by Kaberle, who actually signed with Carolina on the same day Corvo went to Boston. If Corvo can positively affect the power play (unlike Kaberle) it will turn out to be a good addition.
Boston's top line of Horton, Milan Lucic and David Krejci, which brings a little bit of everything to the table, is still intact. However, the following trio will be the scoring line of most importance this season.
Patrice Bergeron anchors the second line, which is flanked by youngsters Brad Marchand and, assumedly, Tyler Seguin. As long as Bergeron is healthy, you know what you're getting. Marchand and Seguin, though, are question marks. Can Marchand, who was an X-factor in the playoffs, carryover that success? Is this the year Seguin breaks out, or are more growing pains in store? If Seguin sees limited ice-time again, there are a few forwards that can take his place.
Surprisingly, the B's won 16 playoff games without the special teams being a factor until the final. Last regular season, they were 16th and 20th on the penalty kill and power play, respectively. Though they are a stellar five-on-five club, this is an area where Julien's gang must improve in if they wish to repeat.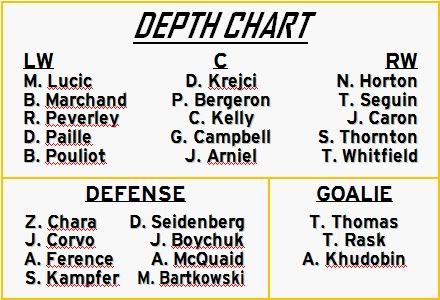 Additions:
Joe Corvo, Benoit Pouliot
Subtractions:
Tomas Kaberle, Mark Recchi, Michael Ryder
Fresh Faces from the Farm:
- Jordan Caron, who played 47 AHL games last year, is expected to crack the opening night roster.
- In all likelihood, ninth overall pick Dougie Hamilton will be sent back to the OHL. That's what everybody assumed would happen to Cam Fowler last year at this time, too…
- A prospect that could be considered a sleeper to make the team is forward Jared Knight.
X-Factor: Brad Marchand
Can Marchand carryover his playoff success? If so, it'll continue to give the B's two strong lines.
Breakout: Tyler Seguin
We saw flashes of brilliance in 2010-11. We're going to see more of the complete package in 2011-12.
On the Hot Seat: Johnny Boychuk
There's a lot of depth on the Bruins blue-line, and Boychuk is mistake-prone.
Bold Prediction:
The B's fail to repeat as division, conference and Cup champions.
The Final Word:
In reality, the Cup hangover is a real thing. I don't think they'll have as big of a fall-off as Chicago experienced, but they do have company in the Northeast Division in the form of the Buffalo Sabres. However, this is still a well-rounded team that will once again be dangerous come playoff time.
RLD's Boston related off-season posts:
June 22: Boston buzzing about its Bruins (
Link
)
July 10: Thomas' competitiveness led to banner season (
Link
)
July 26: Northeast Division Off-season Grades (
Link
)
August 30: Is a surprise in store in Northeast? (
Link
)
Photo credit: Getty Images