Veteran-laden Flames seek first playoff appearance since 2009
In mid-December of last season, the Calgary Flames were toast. By mid-March they were back in the playoff hunt and actually held a spot in the Western Conference's top eight. Their big second half comeback (27-11-9 in final 47 games) was not enough, though, and Brent Sutter's crew missed the playoffs for the second straight year.
In Brent Sutter's short, two-year tenure, the Flames have lived on the bubble in the West. They couldn't get anything going in 2009-10 and, as noted, they ran out of gas last year. In both instances, they finished in 10th in the West. I would expect more of the same out of this veteran group here in 2011-12.
Let's face it – outside of Jarome Iginla, the lineup is littered with second-liners that are either inconsistent or injury-prone. Alex Tanguay is a nice player, but he's past his prime. Olli Jokinen simply isn't a fit in Calgary. Rene Bourque runs hot and cold. David Moss can't stay healthy. There is no consistency up front. More importantly, there is no identity with this team.
In the years surrounding the lockout, Darryl Sutter's Flames had an identity. They were a hard-hitting, defensive-minded club that was difficult to play against on a nightly basis. Nowadays you don't know what to expect.
Iginla is the lone sure thing on the roster. Remarkably, the 14-year veteran has scored 30-plus goals in 10 straight years, including 43 tallies a year ago. He's done it all without a true No. 1 center. Iginla is under contract for two more seasons, but if the team gets off to another slow start, look for the rumor mill to heat up.
Miikka Kiprusoff simply isn't himself anymore. Since his standout 2005-06 campaign where he posted a 2.07 goals-against average, 'Kipper' has slowly fallen from elite status. His save percentage numbers have been below-average in three of the last four years. For the Flames to make the playoffs, Kiprusoff must be, you guessed it, more consistent.
The defense in front of 'Kipper' is solid. Not great, but solid. Jay Bouwmeester has underachieved ever since signing a hefty five-year contract back in 2009. On the contrary, Mark Giordano and Anton Babchuk are underrated and contribute offensively. The Flames made a couple additions to the blue-line this summer – Scott Hannan and Chris Butler. Overall, it's a respectable defense corps.
GM Jay Feaster has a tough job in the coming years. How will he repair a team that has numerous bad veteran contracts and countless players on the wrong side of their careers? Moreover, how will he rejuvenate a farm system that is super thin of impactful prospects?
Other than the Hannan and Butler additions, Feaster brought back Brendan Morrison and Tanguay to provide stability at forward. The team dealt away popular veteran Robyn Regehr, but the defense should survive without his stay-at-home services. Feaster also recently acquired Lee Stempniak in exchange for Daymond Langkow – a lateral move, essentially.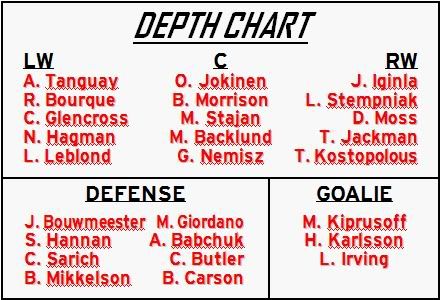 Additions:
Scott Hannan, Lee Stempniak, Chris Butler, Pierre-Luc Leblond
Subtractions:
Robyn Regehr, Daymond Langkow, Ales Kotalik, Adam Pardy, Steve Staios, Fredrik Modin
Fresh Faces from the Farm:
- Youngsters Lance Bouma and Greg Nemisz should challenge for a roster spot in camp, but they would have to out-perform pricey veterans.
- T.J. Brodie, who played three games in Calgary, may be their top defensive prospect, but faces the same problem as Bouma and Nemisz.
X-Factor: Jay Bouwmeester
Jay-Bo needs to up his game to give the Flames a defense that can bail out a hit-and-miss offense.
Breakout: David Moss
Moss showed flashes of brilliance last year. If he can stay healthy, could a 25-goal campaign be in the offing?
On the Hot Seat: Olli Jokinen
Jokinen enters the final year of his contract and is battling for second-line duties.
Bold Prediction:
After another slow start out of the gates, Brent Sutter gets the axe behind the bench.
The Final Word:
Calgary needs to pick up where they left off in last year's second half; if not, things could unravel in Cowtown. You know what you're going to get from Iginla, but the performance of the other forwards (and Kiprusoff) will determine how the Flames' pursuit of a playoff berth shakes out.
RLD's Calgary related off-season posts:
July 27: Northwest Division Off-season Grades (
Link
)
August 19: Windows of Opportunity: Has Flames' window closed? (
Link
)
Photo credit: Getty Images