Goaltending will decide whether off-season upgrades pay dividends
If you take out the Adam Foote signing in 2005, the Columbus Blue Jackets have never been a factor in free agency. That wasn't the case this summer. Not only did they make a splash by signing James Wisniewski to a lucrative contract, but GM Scott Howson also acquired Jeff Carter from Philadelphia in a blockbuster trade.
What does this all mean for Columbus? Do these two moves book their ticket to the playoffs? With the way their goaltending is set up, not necessarily.
Steve Mason has been a liability between the pipes since winning the Calder Trophy in 2009. (Mason's stat-line since the All-Star break of his rookie season: 60-56-21, 2.93 GAA, .902 save percentage.) And in the last two years, Mason has had a somewhat-reliable backup in the form of Mathieu Garon. His backup now? Mark Dekanich, a goalie with 50 minutes of NHL experience. That's not to say Dekanich won't succeed as a backup and/or starter, but there are a lot of question marks in net to start the season.
If Mason and Dekanich can provide some consistency in goal, the rest of the lineup is in good shape. Particularly with the addition of Carter, there is scoring depth up front. With Wisniewski on board and John Moore up-and-coming, the blue-line isn't too shabby either.
Coach Scott Arniel has to be salivating at the possible line combinations he can work with in training camp. For starters, putting Carter alongside Rick Nash creates one of the conference's best combos (on paper). Carter, who has averaged 70 points over the last three seasons, instantly becomes the best center Nash has played with (outside of Team Canada). Columbus also has Derick Brassard and Antoine Vermette at center, as well as veterans R.J. Umberger and Vinny Prospal, which should make for a nice top-six.
The wild card here is Ryan Johansen, the fourth overall pick in 2010 out of Portland of the WHL. There has been a lot of debate of how they will use him. Prior to the acquisition of Carter, it looked like Johansen would center the top line. Now it looks like he will have a reduced role on the fourth line, a la Tyler Seguin in Boston last year.
The best thing going for the Jackets' forward corps is the depth down the middle. Carter, Vermette, Brassard, Johansen and Samuel Pahlsson can all play center, providing Arniel numerous options.
For the first time in his career, Wisniewski is the bonafide No. 1 blue-liner on a team. He may be out of place since he's not a true defensive anchor, but is going to be a welcomed addition to a power play unit that was ranked 29th in 2010-11. When you add Fedor Tyutin, Marc Methot and newly-signed Radek Martinek next to Wisniewski, the blue-line isn't as bad as it has been in the past.
For Columbus to truly take a bite out of the Central Division and Western Conference, special teams have to improve. The power play has been a sore spot for years, while the penalty kill needs some work. Howson and Arniel hope Carter, Wisniewski and Prospal can help aid the man advantage.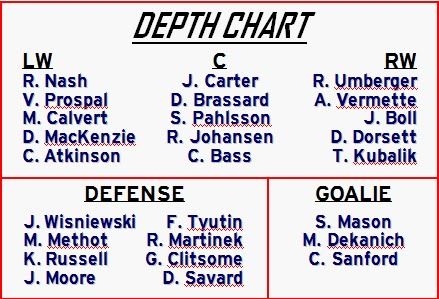 Additions:
Jeff Carter, James Wisniewski, Vinny Prospal, Radek Martinek, Mark Dekanich, Cody Bass, Curtis Sanford
Subtractions:
Jake Voracek, Scottie Upshall, Jan Hejda, Mathieu Garon, Sami Lepisto, Anton Stralman, Mike Commodore, Nikita Filatov
Fresh Faces from the Farm:
- As previously mentioned, Ryan Johansen could potentially be a difference-maker in whatever role he's put in this season.
- Young defenseman John Moore is a terrific skater and will be a future key asset to this Jackets team.
- Cam Atkinson, a college hockey standout at Boston College, could find his way into the lineup with a great camp.
X-Factor: Steve Mason
The Jackets need (a lot) more consistency from their supposed 'franchise netminder'.
Breakout: Mark Dekanich
Dekanich, an underrated AHL goalie that was road-blocked in the Nashville organization, has a great chance to steal starts from Mason.
On the Hot Seat: Kristian Huselius
Coming into a contract year, Huselius had an untimely off-season injury and is due to miss the first half of the season. When he comes back, he may have to earn back some playing time.
Bold Prediction:
Steve Mason will not be Columbus' starting goalie by season's end.
The Final Word:
Optimism is running high in Ohio's state capital. Due to the off-season acquisitions and the youth coming through the system, Blue Jackets fans hope Arniel's second season at the helm is a successful one. But to beat a dead horse, it doesn't matter what the offense and defense. In a division like the Central and a conference like the West, the goaltending must improve for the Jackets to make their second ever trip to the playoffs.
RLD's Columbus related off-season posts:
July 5: Has Columbus improved enough for playoff push? (
Link
)
July 19: Which Steve Mason will show up this season? (
Link
)
July 25: Central Division Off-season Grades (
Link
)
Photo credit: Getty Images