Despite age, road to Central Division crown still goes through Motor City
It seems like every single year the Detroit Red Wings are among the top teams in both the Central Division and the Western Conference.
The Red Wings accomplished both of those feats last season when they finished atop the Central Division with 104 points and also claimed the third spot in the extremely competitive Western Conference. However, when all was said and done with the 2010-11 NHL season, the team found itself knocked out of the Stanley Cup playoffs in seven games in the second round to the San Jose Sharks – for the second year in a row.
As always, the brightest Wing of the bunch was 41-year-old defenseman Nicklas Lidstrom. Lidstrom put up 62 points (16 goals and 46 assists) and played in all 82 regular season games in leading to another Norris Trophy. By far and away, Lidstrom was the club's best defenseman game in and game out and more of the same will be expected this season.
The same could be said of Wings' 30-year-old forward Henrik Zetterberg, who led all Wings forwards with 80 points (24 goals and 56 assists). He once again showed the NHL that late draft picks can end up being worth it.
Behind Zetterberg on offense was the usual cast of Wings' talented forwards. Pavel Datsyuk had another good season with 59 points (23 goals and 36 assists) and Johan Franzen, although not the healthiest player around since joining the NHL, had 55 points (28 goals and 27 assists) in 76 games. The Wings also got solid seasons from the likes of Dan Cleary (26- 20-46), Todd Bertuzzi (16-29-45), Valterri Filppulla (16-23-39), and Tomas Holmstrom (18-19-37).
The Wings' offense has always been a well-oiled machine; and as seen from these statistics, that was the case this past season as well.
On defense, the team is losing Brian Rafalski to retirement. Rafalski is going out on a good note as he picked up 48 points (4 goals and 44 assists) in 63 games. Behind Rafalski, the team got good defensive performances from Niklas Kronwall (11-26-37), Brad Stuart and Jonathan Ericsson. Ian White is the newest addition to the defense corps and is expected to help soften the blow of Rafalski's absence on the power play.
In goal, Jimmy Howard proved once again that he is more than capable of being a No. 1 netminder in the NHL. He won 37 games and posted a goals-against average of 2.79, a save percentage of .908 and two shutouts. With Chris Osgood now retired, he is officially the man in Detroit. Ty Conklin was signed in the off-season to back up Howard.
It is going to be another tough season in both the Central Division and in the Western Conference as whole. With that said, the Wings once again have all the pieces in place to have another successful season.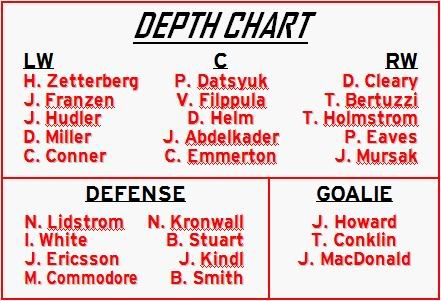 Additions:
Mike Commodore, Ty Conklin, Ian White, Chris Conner
Subtractions:
Brian Rafalski, Kris Draper, Mike Modano, Chris Osgood, Ruslan Salei (RIP)
Fresh Faces from the Farm:
- Cory Emmerton will more than likely be pushing to make the big club this season as a young (23-year-old), hard working forward who can play in all situations.
- Tomas Tatar put up 57 points in 70 games with the Grand Rapids Griffins last season and certainly deserves a look from the Red Wings in training camp
- Brendan Smith is still the top Wings' prospect. Smith had a good rookie season in Grand Rapids last season and as a blueliner, was able to put up 32 points in 63 games.
X-Factor: Pavel Datsyuk
Datsyuk is the ultimate game-breaker for the Wings. He can score, set up teammates, play well defensively and has been one of the team's best players for several seasons now.
Breakout: Valterri Filppula
When Filppula wants to play, he is one of the most gifted players in the league. He will do that this season and surprise many with a productive season.
On the Hot Seat: Niklas Kronwall
No one knows how much longer Lidstrom will be able to play, so Kronwall will need to step up big time this season and show he is ready to lead this club's defensive corps into the future.
Bold Prediction:
Franzen stays healthy this season and scores 40 goals.
The Final Word:
The Central Division may have improved during the off-season, but as always, all the teams in the division must go through Detroit if they want to get anywhere.
RLD's Detroit related off-season posts:
July 25: Central Division Off-season Grades (
Link
)
August 10: Who is the team to beat in the Central? (
Link
)
August 15: It's now Howard's time in Detroit (
Link
)
August 19: Windows of opportunity: Is Detroit's closing? (
Link
)
Photo credit: Getty Images