After taste of second round, Preds determined to go farther
"Yo, Adrian… they did it!"
– Pete Weber, following the Preds' first-round series win.
It was a magical spring in Music City, as the Nashville Predators (finally) advanced past the first round for the first time in franchise history. It was one of many firsts the team accomplished in the playoffs. But in the grand scheme of things, this team didn't win anything; they finished 10 victories of the ultimate goal – the Stanley Cup.
Considering where they're coming from in recent years, it speaks highly of this franchise that their goal is to win the Cup, not just get beyond the opening round.
"We got a feeling of how great it was to get by the first round," Coach Barry Trotz said, "and how ramped up emotionally you get in the second round. It gives you a craving for the next round. But before you get there, you have to make the playoffs, which we've done six of the last seven years. At the same time, a lot of the teams around us have added pieces and are a more desperate."
If injuries bite this team again, staying in the top eight could be tough for the Preds. As Trotz alluded to, a lot of teams around or below them have improved – namely Columbus, Minnesota and maybe even St. Louis. With a good handful of personnel losses, the task of making a seventh playoff appearance in eight years looks a tad more difficult.
The bedrock of the Predators remains the same: defense and goaltending. They are well-stocked for years to come.
Shea Weber and Ryan Suter, arguably the league's top pairing, lead the way. The storyling surrounding them this year, though, will be their contract statuses. Both Weber and Suter are entering a contract year (Suter can become a UFA on July 1st; Weber will be a RFA again). Hockey fans in Nashville may want to soak in watching them play this season, as it could very well be the last year they man the blue-line together.
Jonathon Blum raised some eyebrows in his cup of coffee down the stretch last year, and figures to play a big role this season. Blum is technically still a rookie, but plays nothing like one. He is joined by Kevin Klein on the same pairing. The two played well together late last year.
On top of all that, the farm system is chock full of young talent. It all starts with decorated prospect Ryan Ellis, who accomplished everything a defenseman could accomplish in the Ontario Hockey League. The offensive-minded blue-liner will boost the power play upon his arrival to Nashville. Ellis will be battling for a roster spot with Mattias Ekholm, Roman Josi, Teemu Laakso and Jack Hillen. (And don't forget Francis Bouillon, who is trying to come back from a concussion.)
"It's exciting right now," Captain Shea Weber said. "There's a lot of opportunities for young guys to come in here with lots of spots open. That usually brings out the best competition from guys."
In goal, the Preds have an elite goaltender and one of the NHL's rising stars in Pekka Rinne. The Finnish netminder finished second in the Vezina Trophy voting last year, as well as fourth in the Hart Trophy voting. Rinne, who is also entering a contract year, posted career-highs in goals-against average (2.12), save percentage (.930) and wins (33) last season.
Weber says there's no reason to believe Rinne can't repeat that success.
"I think anyone who knows Pekka knows more than capable of doing the same thing. He's a competitive guy and works hard every day. He's definitely not going to get worse – he's only going to get better."
As you can see, the back end is in good hands. The offense, though, is the make-or-break position for the 2011-12 Predators.
Two years ago, Patric Hornqvist had a 30-goal outburst. Sergei Kostitsyn followed that up with a surprise team-leading 23-goal campaign. Both players will be important to the team's offensive success. Hornqvist didn't catch as many breaks and was a focal point of the opposition in 2010-11. Kostitsyn's breakout campaign is viewed as a fluke, given his unordinary shooting percentage (.247). Consistency from these two will be crucial.
Though Hornqvist and Kostitsyn are important pieces, Trotz wants more forwards to contribute.
"We need an extra level from everybody," Trotz said. "We need 20 or so goals from veterans like David Legwand and Martin Erat. We need Colin Wilson to take the next step. We need a lot of those kinds of things to happen. Because of our youth, we should be a little bit better (offensively). When you look at our lineup, we have a number of guys that are capable of having 20 goals."
Veterans David Legwand, Mike Fisher and Martin Erat must stay healthy, while off-season signee Niclas Bergfors will be relied upon for secondary scoring. It also wouldn't hurt if Colin Wilson, along with youngsters former Wisconsin Badgers, Blake Geoffrion and Craig Smith, kicked their game into high gear.
Special teams will be affected by the players that left this summer. Joel Ward and Shane O'Brien were key components on the penalty kill. Likewise, Steve Sullivan and Cody Franson were valuable on the power play. If Trotz finds ample replacements in-house – which shouldn't be too much of a worry – it will go a long way in sustaining the Predators' success.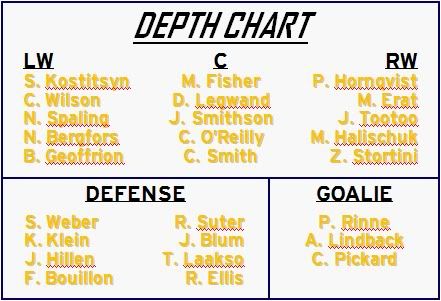 Additions:
Niclas Bergfors, Jack Hillen, Zack Stortini, Kyle Wilson
Subtractions:
Joel Ward, Steve Sullivan, J.P. Dumont, Marcel Goc, Cody Franson, Shane O'Brien, Matthew Lombardi
Fresh Faces from the Farm:
- Ryan Ellis is the team's top prospect, but as noted, is in a four-way battle on defense with Ekholm, Laakso and Josi.
- Craig Smith has raised eyebrows this off-season and in Rookie Camp, and is a real threat to claim a roster spot out of camp.
- Another prospect to watch is power forward Taylor Beck, who came close to making the opening night roster last season.
X-Factor: Patric Hornqvist
The breakout star from 2009-10 took a step back last season. If Hornqvist can return to the 30-goal mark, it will only help an offense that needs all the scoring they can get.
Breakout: Jonathon Blum
Blum made an immediate impact late last year following his call-up from the AHL. Look for the D-man to have a great all-around season.
On the Hot Seat: Colin Wilson
The first-round pick from 2008 is under pressure to make progress this season. If not, Wilson's days as a Predator could be numbered.
Bold Prediction:
Shea Weber scores more goals than Sergei Kostitsyn.
The Final Word:
If the Preds get off to a good start and don't let the impending free agency of their 'Big Three' become a distraction, then another playoff berth should be in the cards. It would help if they were in good playoff position by March; they don't have the luxury of playing 12 of the last 15 games at home like last year. With a solid foundation on the back end, the team has just enough scoring to do some damage in the regular season.
RLD's Nashville related off-season posts:
July 14: Predators unveil new home jerseys (
Link
)
July 19: Can Predator Hockey win a Stanley Cup? (
Link
)
July 25: Central Division Off-season Grades (
Link
)
August 4: Questions galore about Weber's future in Nashville (
Link
)
September 1: Wade Belak: Gone Too Soon (
Link
)
Photo credit: Getty Images