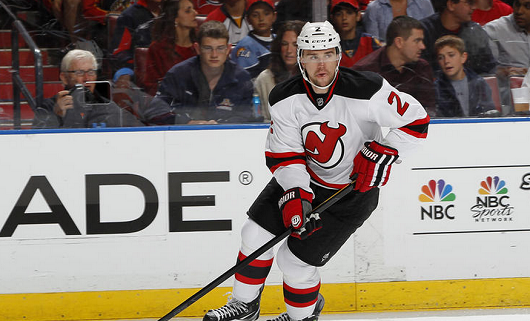 Back in February, when New Jersey Devils GM Lou Lamoriello acquired Marek Zidlicky from the Minnesota Wild, he knew there was potential for a high reward. Why else would he send a hefty bounty of Kurtis Foster, Nick Palmieri, Stephane Veilleux, a second round pick in 2012, and, if they defeat the Flyers, a third round selection in 2013?
Lamoriello not only saw the potential of acquiring a puck-moving defenseman to help push the play forward, he saw the value in a veteran defender who was capable of playing better than his market value.
"We had an opportunity to get an experienced right shot, puck-moving defensemen, who can also quarterback a power play and has a lot of experience," Lamoriello explained to
The Record
."We certainly wouldn't have done it if we didn't think it would make our team better.".
Not only has Zidlicky made this Devils team better, he's helped stabilize a blue line filled with question marks and inconsistency. He produced a modest two goals and eight points through his first 22 games in New Jersey before making his impact in the postseason, scoring a goal and six points through 11 games.
Over the last two games, the 35-year-old has been particularly good, adding two points in each tilt, and helping the Devils take a 3-1 series lead over the Flyers powerhouse. His ability to fit into a new system has helped solidify their "team defense" as head coach Pete DeBoer opts to use all of his defenders as one revolving, responsible unit. But most importantly, he fits in.
"He brings us big minutes," DeBoer explained to
The Record
. "For me, it's not even the offensive production he brings to the power play. It's how he defends and how tough he is in corners in our end of the ice and he's plays against other team's best players most nights. He's valuable in a lot of different areas."
Zidlicky, despite diminished skills and adapting to a completely different playing style, has been able to mesh with countrymen Petr Sykora and Patrik Elias. And that chemistry has is a big reason why the Devils have been able to outscore a lethal Flyers onslaught as three of his four points came with one of his friends on the ice.
When you see Zidlicky out there, he simply looks comfortable. During the regular season, the Devils gave him more minutes than anyone on the team, as he averaged 22:34 through those 22 games. Considering he was consistently relegated to the bench or the press box, a little vote of confidence has taken him a long way.
The Wild were almost forced to trade Zidlicky back in February. Their new coach Mike Yeo kept him off the ice, and even when dressed, refused to put him on the power play. He was miserable, and it showed with his mere 14 assists in 21 games. He had to be traded before his value completely evaporated.
At the time of the trade, Wild beat writer Michael Russo gave his thoughts on Zidlicky's potential to bounce back. "This is not the same player of a few years ago. He doesn't compete the same, and he certainly doesn't shoot the same," Russo opined in his piece for
The Star Tribune
. "My theory: I think that separated shoulder last season took a toll on Zidlicky. He hasn't looked the same since, he hasn't shot the puck the same way since. His zip is missing, and he doesn't trust it."
But Russo would later hedge, and acknowledge Zidlicky's potential to succeed in a different environment. "But he'll be playing with some talented guys in Jersey in Parise, Kovalchuk, Elias, etc., etc."
The purpose of showing these quotes of merely three months ago is not to lambaste Russo for giving his honest opinion, but to rather point out that Zidlicky was down and out. Nobody expected much of him at his age, making his re-emergence during the playoffs that much more special. However, when you consider he previously scored double-digit goals in three separate years and broke 40 points five times over his eight-year career, Zidlicky's impact is understandable.
And in New Jersey, they understand he's not Nicklas Lidstrom out there, but he's there guy. "He's not a big guy, but he plays tough in certain areas and his skills are unbelievable," Elias explained to The Record. "His poise and the way he sees the game, he can make a difference. Yeah, he's going to make mistakes defensively, but you've got to live with that. You've got to take the good with the bad."
It seems like all this sleeping giant needed was some motivation, and a confidence boost. He certainly can compete, make crafty offensive plays, and more importantly help play important minutes on a team that desperately needs them. The Devils certainly would not be within one win of the Conference Finals without him.
Photo Credit: Getty Images