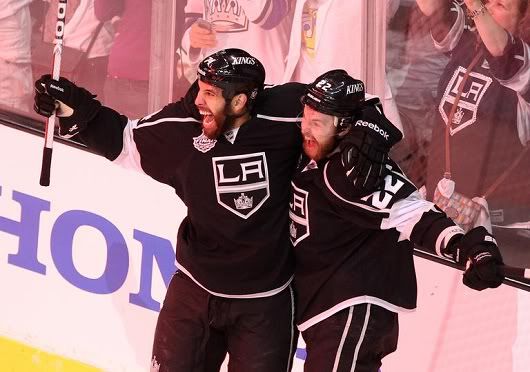 The saying goes that there is a first time for everything.
Tonight, the Los Angeles Kings won their first Stanley Cup in franchise history by defeating the New Jersey Devils by a score of 6-1 in Game 6 to take the series 4-2.
After not playing "their" game in Games 4 and 5, the Kings found their style of play early and often tonight in Game 6. The Kings came out hard, forechecked early and often and put plenty of pressure on Devils' netminder Martin Brodeur.
Unlike Games 4 and 5, however, the Kings were able to find the back of the net on a more consistent basis. One reason the team was able to do that was because of their power play.
The Devils took some untimely penalties in the first period and it ended up costing them the hockey game. The Kings scored three power play goals in the first period as Dustin Brown, Jeff Carter and Trevor Lewis all beat Brodeur within a span of four minutes.
The Kings also did a much better job of creating sustainable pressure on Brodeur. In the first period, the Kings out shot the Devils 13-4 and were able to keep the puck deep in the Devils' zone for large stretches of the period.
This was also the case for the Kings in the third period as they went on to score two more goals in their final period of the season. Both Lewis (EN) and defenseman Matt Greene found the back if the net en route to the team's 6-1 victory.
Forward Jeff Carter had perhaps his best game as a King tonight. He scored two goals, created a ton of scoring opportunities and was the offensive player that the Kings knew they were getting when they traded for him.
Conn Smythe Trophy winner, Jonathan Quick, did not have to be spectacular but he got the job done. He stopped 15 of 16 shots and allowed just 7 goals in the whole series.
At the other end, the Devils look exhausted. The team clearly emptied out their tank in Games 4 and 5 to get to tonight's Game 6 and simply did not have anything left to counter the Kings' high-octane attack in the first period, which turned out to be the undoing and the end of the series for the Devils.
It may have taken 45 years but the Kings were able to capture their first Cup and they did so in a fine and convincing fashion by dominating the Devils in Game 6 to close out the series.
Photo Credit: Getty Images