Now that the
Calgary Flames inked Bob Hartley
and Montreal hired Michel Therrien, there are only two current NHL openings. Let's take a look at the needs of those two and the possible candidates to fill the vacancy...
Edmonton Oilers
The Oilers may be the trickiest scenario to gauge as they sit somewhere between developing future stars and attempting to win. Their incumbent head coach, Tom Renney, was let go after two poor seasons where he managed a 57-85 record. Renney might have been a good candidate to succeed with the team as he mastered the rebuild on the fly in New York, however, ownership clearly felt there were better options to mentor and develop their wealth of young talent.
According to
Jim Matheson of The Edmonton Journal
, the list of likely candidates extends to several names, but probably not former Calgary Flames bench boss Brent Sutter. From
The Edmonton Journal
:
The list of candidates, though, could run the gamut from Oilers associate coach Ralph Krueger, whom Renney said "is definitely ready to be an NHL head coach," to former big-league head men such as Sutter (Calgary and New Jersey), Paul Maurice (Carolina, taking the Hurricanes to the Cup final against Detroit in 2002, and Toronto), TSN commentator Marc Crawford (Colorado, Vancouver, Los Angeles, Dallas) who was interviewed in 2009 when Craig MacTavish left, John Stevens (former Flyers' coach now assistant in LA), Ron Wilson (Toronto, San Jose, Anaheim, Washington), Mike Sullivan (ex Bruins coach, now Rangers associate coach who is very much in the mix in Calgary.)
Hotshot AHL coaches such Dallas Eakins (Toronto Marlies), Jon Cooper (Norfolk Admirals) and Oilers farm guy Todd Nelson also should be on the Edmonton radar.
Considering Stevens and other possible candidates like Eakins, Cooper, and Adam Oates are all still coaching their current club, there really is no rush to find Renney's replacement. But finding a coach before the Oilers step up to the podium on June 22nd should be a necessity. Considering the Oilers have that aforementioned wealth of talent up front, the new head coach should have a say as to whether they roll the dice on a defenseman with the first overall pick.
If Renney wasn't the right man for the job, the next head coach would likely be the antithesis of his predecessor. Therefore, a taskmaster like Wilson or Crawford would make sense if we follow that blue print. Then again, the Los Angeles Kings hired Darryl Sutter, who replaced a similarly defensive-minded Terry Murray.
It all comes down to the Oilers finding their identity and giving their kids the right mentor; not exactly a cut-and-dry scenario.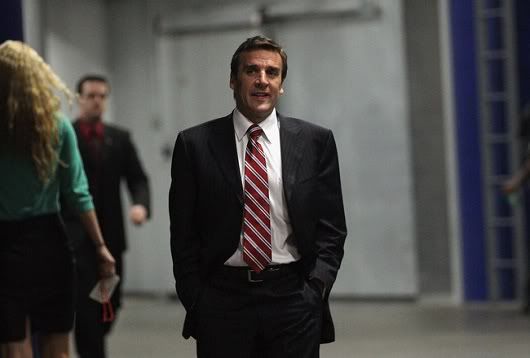 Washington Capitals
Following the abrupt end of Dale Hunter's tenure with the Caps, GM George McPhee is once again searching for a new coach. After several seasons of excellent regular seasons followed by mediocre postseasons, the Caps once again found themselves eliminated in the second round. But due to the manner in which they succeeded, Hunter's term was deemed a success as he got 100 percent out of the team's enigmatic star players.
And while it is a safe assumption that the Caps want another gritty, defensive-minded coach, they are in no rush to find that guy. From
Capitals Watch
:
George McPhee reiterated Wednesday at the NHL's general managers meeting that he's in no rush to get a new coach to replace Dale Hunter. It might not happen before the draft, which is June 22 and 23, or by the start of free agency July 1.
"I don't know whether it'll be done in a few weeks or six weeks," McPhee said. "We'll take our time and try to do it right."
Rumor has it
McPhee doesn't want another high-profile coach
. TSN reported last week current assistant coaches Jim Johnson and Dean Evanson are very much in the mix. Both would be lesser-known candidates, as would Oates and Philadelphia Flyers assistant Craig Berube.
But again, the Caps really are in no rush to hire their head coach. They have decisions to make on unrestricted free agents like Alexander Semin, Dennis Wideman and Mike Knuble, and have less options after top prospect
Evgeny Kuznetsov recently re-signed with the KHL
.
As has been the case since Alex Ovechkin came to D.C., there won't be a dull moment in the US capitol.
Photos Credit: Getty Images